Birch Mountain Marathon — Page 9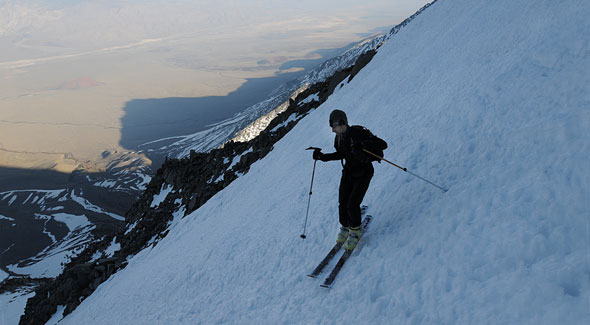 7000 Vertical Feet of Hell
I get to the top of the East Couloir first, so I will be the guinea pig. Skis in hand as an emergency belay, I carefully investigate the snow's hardness.
My verdict is that it is firm but skiable. The texture should be on our side here, providing added grip for our edges. Nonetheless, it takes no small measure of commitment to snap my skis on, side-slip into the chute, and bang off a turn on 35-40° frozen sun cups and fins.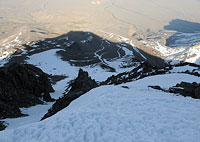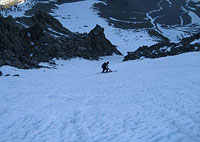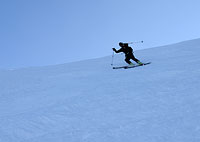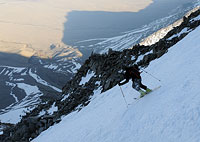 It's skiable—barely.
The angle is just moderate enough.
If it were even a little steeper, it would be too dangerous to ski snow this hard.
And the crazy texture of the surface creates its own challenge—carving smooth arcs is impossible.
You've got to pivot aggressively in the air, get the skis pointed where you want to go before they reconnect with the snow.
Even then, it's a struggle to stay balanced over the skis.
After a few far-from-pretty survival turns, I pull over to see how Hristo will cope with the couloir.
To my relief, he looks solid.
I'm impressed.
In my opinion, anyone capable of skiing this crap deserves a medal.
On the other hand, anyone foolish enough to get stuck skiing this crap deserves to have their medal revoked immediately afterward.
What's especially anguishing about the skiing is that it didn't have to be this way.
Had we been here just a few hours earlier, on soft snow, things would have been fine, maybe even great. Under the right conditions, textured snow at high angles can make for fine steep skiing. Now, we're stuck with survival skiing on legs so wrecked we've got to stop every few turns just to catch our breath. Mentally, the conditions are a huge challenge.
The risk of injury is significant with every turn. Ski tips bang into sun cups. Edges stick. Knees get wrenched. The back is under constant assault. Forget about fun—forget about everything but gritting your teeth, setting that pole plant, rattling out another turn, and another, seemingly without end.
I wonder, pausing in between turns, what Alvin will find on the Birch Mountain's South Face. It can't be worse than this. But I don't for a moment regret choosing to ski the east couloir: it has kept us on-route. Hristo and I know exactly what lurks below. We know every step of the way back to our cars, no surprises. With patience, caution, and a ton of hard work, we'll be able to safely inch our way back down this giant mountain, one agonizing turn at a time.