Birch Mountain Marathon
Sun Cups, Fingers of Snow, & Shark Fins in the Dark
Birch Mountain is one of the true giants of the Eastern Sierra, offering skiers and snowboarders one of California's biggest continuous descents.
From McMurray Meadows, elevation 6400', it is a long but moderate climb to Birch Mountain's 13,665-foot summit. For the effort skiers will be rewarded with magnificent views of the nearby Palisades, plus the possibility of over 7000 vertical feet of skiing on the broad southeast slopes below.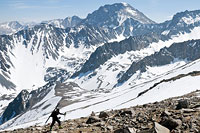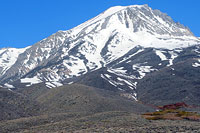 Something magical happens in the vicinity of the Palisades. Here you find what many call the most Alpine part of the Sierra.
Here you find the Sierra's glaciers, crevasses, and high couloirs, as well as the range's greatest concentration of fourteen-thousand-foot peaks—many accessible only via technical climbing.
Here also are stirring ridges and inviting flanks sweeping right down to the Owens Valley desert instead of into the usual, impenetrable drainages to the south. All of this combines to make the Palisades Group one of the most diverse feasts of Backcountry Skiing terrain in the entire Sierra.
Though not the highest summit in the region, Birch Mountain is nonetheless a prime destination for ski mountaineers. If you are looking for big mountain skiing, Birch certainly qualifies. In fact, Birch Mountain's broad but massive slopes evoke comparisons with Mount Shasta, with the added bonus of abundant Palisade views.
In good conditions, Birch Mountain is skiable from nearly all directions. Of particular interest to skiers, however, are the mountain's moderate southeast slopes. Traditionally, these sun-kissed snowfields are accessed from Tinemaha Creek, though an alternate approach from McMurry Meadows straight up the east face will often offer a longer descent on snow.
Whichever way you go (including the option of a north-south peak traverse), Birch Mountain offers unforgettable backcountry skiing in the heart of the High Sierra. Just be sure you get an early start—and be prepared for a very long day.