Bloody Bike & Ski — Page 2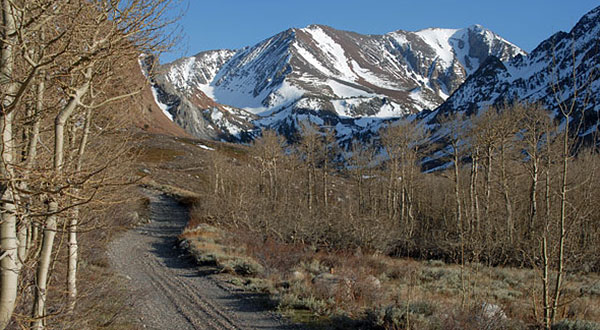 Biking Up Laurel Lakes Road?
There are many jeep trails in the Sierra. Few sport their own sign warning travelers that four wheel drive is required. Laurel Lakes road is close enough to the town of Mammoth Lakes to warrant such a posting.
The road begins harmlessly enough, with a straightforward climb into the foothills of the Sierra. Soon enough, however, the road degenerates into a slow, tedious grind up steep switchbacks coated with loose gravel and shale shards, plus the occasional boulder to snap an axle.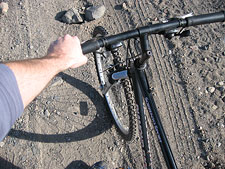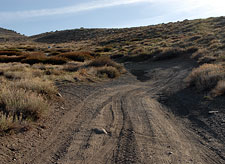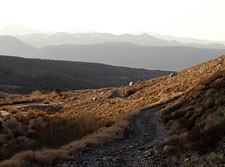 Should you decide you've had enough and attempt to retreat, you'll discover the only way out is to put it in reverse and back up—often several hundred yards or more— to a rare turnaround.
If you've got a high-clearance vehicle and a good deal of patience, the road is certainly passable. If you've got a regular passenger car, you've really got no chance.
With four and a half miles of road to get to Laurel Lakes, that makes Bloody Couloir much less appealing for the vehicularly-challenged.
I'd heard reports of people using bicycles to shorten an approach, and, frankly, the idea appealed to me. What could be better than cruising a mountain road on a bicycle, effortlessly ticking off the miles, no gasoline required?
Of course, somehow I'd have to carry my skis and gear with me. And I really didn't know whether or not I could bike uphill with any degree of efficiency.
But, if I could somehow make it up the road, I knew I'd be able to coast back down.
At a bare minimum (I reasoned), taking along a bicycle meant cutting the hiking distance in half. Surely that was worth giving it a try? And so, along came the bicycle. Call it a test run. If biking proved viable, the potential impact seemed unlimited. I envisioned biking up Tioga Pass Road before the gate opened. Or even (dare I dream of it?) White Mountain Road.
Such delusions of human-powered grandeur end shortly after I heft my 50-pound pack and attempt to mount my bicycle. The modest grade at the start of Laurel Lakes Road is too steep to allow me to get rolling. I am forced to point downhill, start cycling, then turn around and head back up. This strategy, of course, will only work in the parking area.
My mountain bike's tires soon sink into the loose dirt and gravel of the road. In the lowest of low gears, it takes a red-line cardio output to make any headway up the road. A hundred yards of this, and I finally grind to a halt. Reset. By locking my brakes, then hopping on and pedaling like mad, I am able to resume forward motion.
The effort is of course doomed. The grade is just too steep, the road's surface too soft. The weight of the pack unbalances the bicycle, making it extremely difficult to steer. My ski tails catch on the bike frame. And just to seal the deal, a gusty cross-wind keeps tipping me over.
The reasonable course of action is to abandon my grand experiment—hide the bike at the side of the road and hike up. But really, are backcountry skiers on the whole a reasonable bunch? I hop off the bike and push it uphill. It's not too terribly difficult. I still have to come back down, I reason, and at least going downhill I'll be able to ride. Right?