Bloody Bike & Ski — Page 3
Laurel Creek Camp
My unsuccessful stint as a backcountry bicyclist leaves me far behind schedule. I won't be making Laurel Lakes tonight. Instead, as the sun begins to set I camp lower in the drainage, in a boggy valley around 9200'.
From my campsite, tomorrow's route is far from obvious. The Laurel Creek Drainage curves westward, out of sight. The mining road climbs high to the east, then vanishes into the snowfields due south. I see ski tracks going in both directions.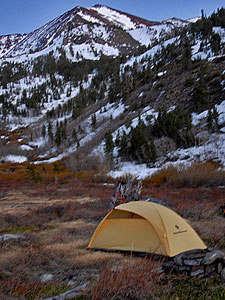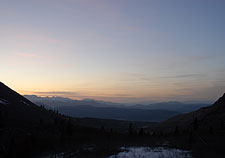 My more pressing concern, however, is how to get to the snow. Coverage is spotty ahead, but there is a tree-protected patch along the banks of Laurel Creek.
I'd like to follow the creek straight up, but the terrain looks especially willow-choked.
Bushwhacking concerns aside, if that snow doesn't freeze overnight, ascending it could easily become a nightmare.
But, with a cold wind howling through the drainage, I'm confident the temperature will drop enough to harden the snow.
I hope.
The other, less appealing option is to backtrack to the road, and hike on foot up the switchbacks on the opposite side of the drainage.
This adds distance over dry ground to the journey, but has the advantage of being straightforward, with no brush, scree, or other obstacles to contend with.
In the meantime, I set up camp, then wander about the boggy meadow, looking for a way through the willows. As night falls, I'm still not sure whether to stick to the road, or try to climb directly up the drainage. I'll decide in the morning, I guess.