Bloody Bike & Ski — Page 5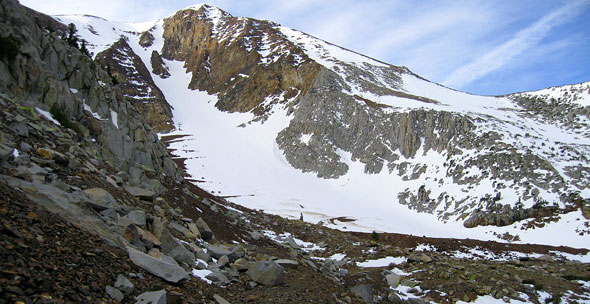 Up the Apron
From the saddle above the lower drainage, the road traverses west a short hundred yards or so, and for the first time the entirety of Bloody Couloir springs into view.
About 400 vertical feet below-right are the scenic and currently-frozen Laurel Lakes. But the attention-grabber is the Couloir itself: 2500 vertical feet of snow. How steep is that headwall, I wonder? Two prominent rock buttresses split the Couloir, dividing it into Bloody Left and Bloody Right.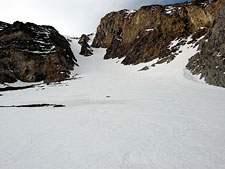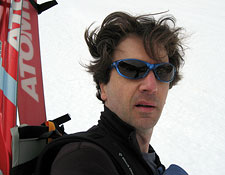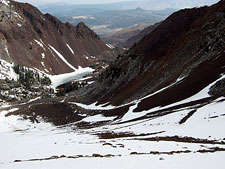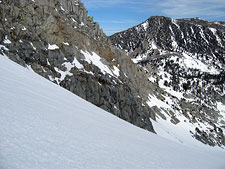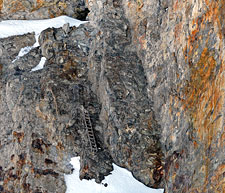 Left is broader, its angle moderate, and (thanks to better sun exposure) more favorable snow. Bloody Right, on the other hand, sits deep within a shadow-well of rock walls. The chute looks steep, narrow—and irresistible.
Out come the axe & crampons, and soon I'm climbing up Bloody Couloir's broad apron.
The snow is softer than I'd like. I veer left and right, trying to find harder snow to keep from post-holing.
Here on the couloir's lower slope, ascending via climbing skins and skis would be ideal.
My ascension skins, of course, are sitting in my tent right now.
But I'm too happy to be disgruntled—it just feels good to be back in the mountains, on-route, with nothing between me and the summit but good old-fashioned effort.
And so I settle into the rhythm of kicking crampons into snow, timing my breathing, heading up.
Thankfully, despite my misadventures below, I've no need to hurry.
High clouds above keep the sun from baking the snow, buying extra time for the ski descent.
Bloody Couloir's topography also helps protect the snow—high cliffs line both side of the Couloir, hiding it from the sun.
While the extra shade keeps the snow cold, it also slows the consolidation process—and that's quite evident today.
I was expecting to see nothing but well-consolidated spring corn here on Bloody Mountain.
Instead, even on the lower reaches, the snow is still in a transitional state: crusty on top, softer underneath.
Would it be too much to hope for powdery slopes above?
The going is slow: 900 vertical feet of broad apron (the triangular-shaped debris field typically found beneath a chute) to get to the start of the Couloir, proper. I stop to take a few photos, drink water, and snack on something salty. When I reach the entrance to the Couloir, I finally spot the missing mine. A dark hole lurks in the rock buttress immediately to the east.
Say what you will about those old prospectors—they were certainly a hardcore bunch.
I see a sketchy network of rotting ladders leading to the mine, with even more exposed ladder-remnants leading to another tunnel above. The though of climbing up and down this Class 4 deathtrap every day to get to work does not sound appealing. Of course, I have my own climbing to do as part of today's work.
Bloody Couloir awaits—and another 1600 vertical feet to the summit.