Bloody Bike & Ski — Page 7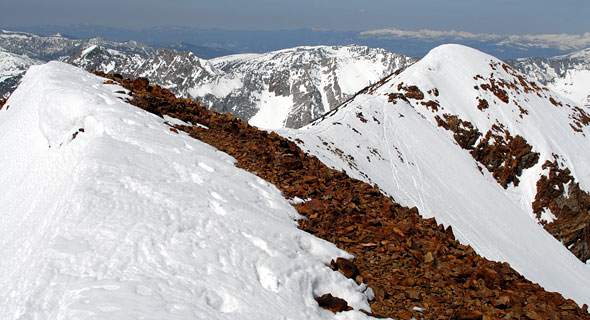 Summit Views
Atop 12,544' Bloody Mountain, I am greeted by warm temperatures, a gusty southwest wind, and expansive views of the surrounding Sierra Nevada Mountains.
Thanks to a narrow strip of snow traversing Bloody Mountain's sharp ridgeline, it will be possible to ski today from the peak's very summit—always a plus when it comes to collecting style points. I sit on the lee side of the summit and eat lunch, enjoying the panorama.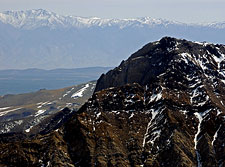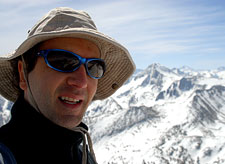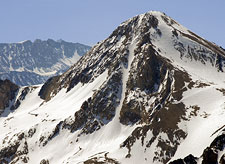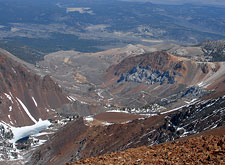 Mount Morrison's dark, fractured summit lies just a short distance to the east, looking every bit as menacing as you'd expect.
Though details remain sketchy, Morrison's northwest couloir (a.k.a. the "Death Couloir") was reportedly skied in 1997, made possible by the heavy snowfall of an El Nino Winter
Beyond Morrison, on the Nevada border, is California-Fourteener White Mountain.
Another local treasure, for backcountry skiers, is Red Slate Mountain, due south, and its gorgeous Red Slate Couloir.
Bloody Mountain's summit offers a birds-eye view of the aesthetic couloir.
For many skiers—myself included—Red Slate Couloir is on the must-do list.
Unfortunately, things look a little bare on Red Slate this year—at least on the couloir's upper section.
That coveted ski descent will have to wait until next year.
Just left of Red Slate Mountain, I see a high black spire on the horizon.
Could this be Mount Humphreys, I wonder?
Looking north, our vista is dominated by the wonderful sweep of the Laurel Creek Drainage.
The postcard-perfect drainage stretches from my toes clear down to Highway 395, a vertical mile below. And this view, more than any other, seems to encompass the full range of Bloody Mountain's striking colors: red, blue, orange, green, gray. Laurel Lakes Road is plainly visible zig-zagging its way up the drainage's eastern slope, as is the boggy meadow where I camped last night.
In a normal snow year, it would undoubtedly be possible to ski all the way to the meadow, and perhaps beyond. I sign my name in the summit register, then pack up my belongings and begin the shift from climbing to descent mode. It's time to ski.