Bloody Bike & Ski — Page 9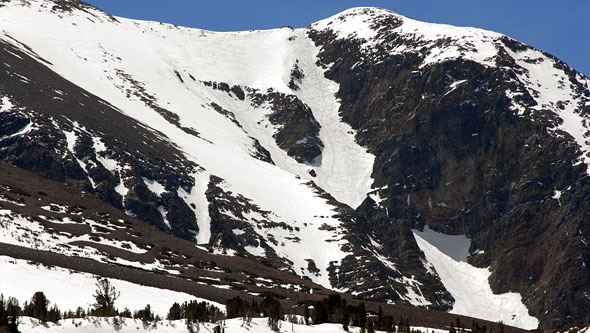 Bloodied But Unbowed
After walking a short distance, I reach a snowy section of Laurel Lakes Road. This allows me to ski back within about 500 vertical feet of my camp. The rest of the way down the switchbacks is dry.
I'm jealous of the parked vehicles I pass en route to my camp. If I had a 4WD, I'd be done for the day. Instead, it's time to resume my unorthodox experiments in backcountry bicyclization. A big problem with the previous day's biking was load carrying.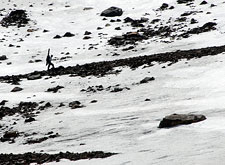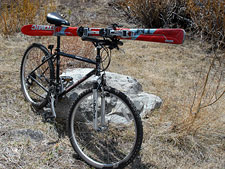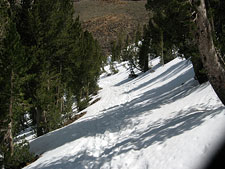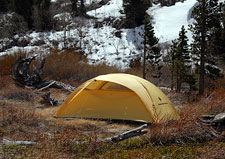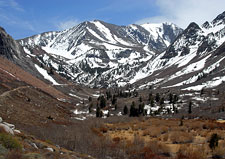 Having the skis on my back seemed to make balance and steering exceptionally difficult. Today, I'm going to try to tie my skis directly to the bicycle.
Hopefully, that will make the ride easier.
It takes a while to figure out a viable means to secure skis to bike. The system I come up with ain't pretty, but it'll work.
With the skis tails pointing forward, I've got just enough clearance to keep my ski bindings away from my knees.
Oh, I hope this is going to work.
I heft my heavy pack and push the bike up a short rise to rejoin Laurel Lakes Road.
And...we're off. Not!
To my dismay, going downhill proves to be just as problematic as going uphill.
The road is too steep, too soft, and too rough.
I bounce like crazy, unable to steer, fighting to keep the brakes just shy of locking.
Soon, my front tire aims for a large boulder. I can't steer around it and crash attempt #1 comes to a halt.
The bike topples over, but I at least stay on my feet.
Hmm. I try again.
Part of the problem, going downhill, is that my pack's weight transfers completely to my arms. It's as if I'm continuously bench pressing seventy or eighty pounds.
The strain on my arms and hands is tremendous. And this is the easy part of the road. Once I hit the switchbacks, I have no choice but to walk the bike downhill.
This is hardly the bicycle salvation I'd envisioned. But, given the right conditions, I can see how bicycling could make for an easier approach. If this was a flat, paved road, I'd have no trouble riding along—and it would be much faster and easier than walking. I try again to ride downhill during another relatively moderate section of the road.
This time, my front tire buries itself in a deep pool of gravel.
I'm headed over the falls. I try to make a Matrix-like saving twist in mid-air, but forget about that 50 lb pack on my back, which pile-drives me into the stony ground like a WWWF Villain. Ouch! When I pick myself up, I've punched a nifty hole in my arm and I've wrecked my sunglasses. Guess it's time to walk the bike downhill again.
Eventually, of course, I make it back to my car, more or less in one piece. I only go over the handlebars once more. That, officially, is all I'll admit too. Biking and skiing may not be a perfect match, but the experience has added up to a rousing adventure, filled to the brim with those quintessential backcountry moments that make the sport so inscrutable to outsiders and so irresistible to us free-form disciples.
As for Bloody Couloir, I can't say enough how much I enjoyed hiking, climbing, and skiing the region. I'll be back—of that I have no doubt. But the bicycle will stay at home.