Bloody Bike & Ski
Testing the Steeps on Bloody Mountain's Bloody Couloir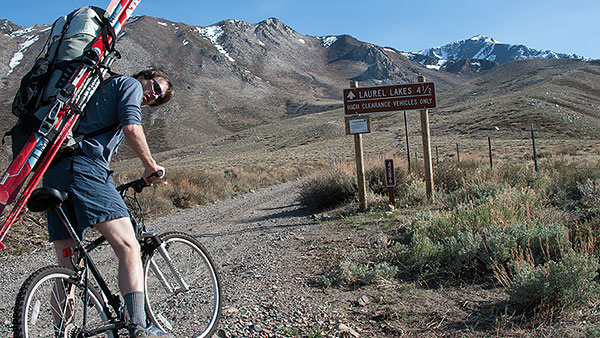 BLOODY COULOIR, CALIFORNIA — How steep is it? I'm working my way up Bloody Mountain's impressive north face, trying to gauge the angle of the couloir at its steepest point.
Normally, I'd just eyeball the hill and call it 40°, but today I want a more objective assessment. I stop, belay myself, and pull out my inclinometer. To my surprise, the slope measures quite a bit steeper than my casual estimate. That view beneath my crampons suddenly looks a lot more intimidating...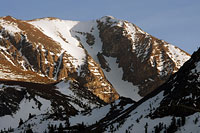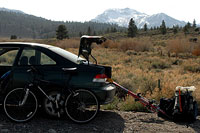 Bloody mountain's north couloir—the 'Bloody' Couloir—is easily one of the Sierra's marquee backcountry skiing descents.
The striking, multi-colored rock of 12,552-foot Bloody Mountain rises prominently above the town of Mammoth Lakes, and the couloir is easily visible from Highway 395.
Bloody Couloir is usually the first things skiers and snowboarders notice when they exit highway 395 en route to Mammoth Mountain.
A central buttress divides the couloir into two main chutes, (climber's) left and right.
The left chute offers the best skiing—broad snowfields and a more moderate angle. But it is the right-hand chute, dropping sharply beneath the mountain's western summit, that attracts aspiring extremists seeking to test their steep-skiing skills. This narrow swatch of snow is usually hidden in shadow, looking steep and menacing from below. Beyond its apparent difficulty, of particular appeal is Bloody Couloir's easy access from Mammoth Lakes.
Depending on how much snow there is, it's possible to drive nearly all the way to Laurel Lakes, and the base of the couloir, elevation 10,000'. Regardless of snowfall, however, the drive requires a four wheel drive vehicle (or an ATV), due to significant quantities of loose rock and boulders.
Naturally, I'd been interested in skiing Bloody Couloir for some time. But I didn't have 4WD, necessitating an extra 2200 vertical feet and four and a half miles of hiking. Trudging up a dusty road while four-wheelers cruised past just didn't sit well with me, so I hatched a scheme of sorts: I would try to bicycle up the road, with skis and gear, to ease the approach.
The plan sounded good—at least in theory.