Cucamonga Peak — Page 2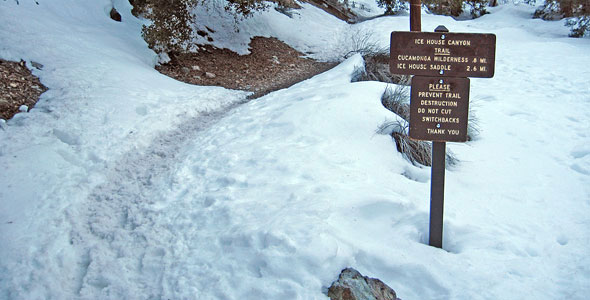 Icehouse Approach
A La Nina winter usually means profound drought for Southern California, and an El Nino winter is often too warm to put snow on the San Gabriels' lower summits.
So how do we explain January 2008 in Southern California—officially a La Nina winter, yet one that's dropped nearly six feet of cold snow in barely a month? Worry about explaining it later; I say get out and ski it while you can. The snow will not last long on Cucamonga Peak, I know, so I hit the 210 Freeway once again—this time with skis in my car.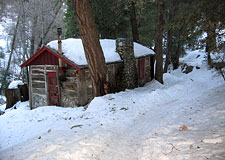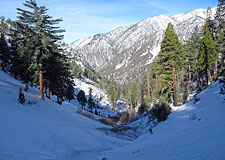 Cucamonga Peak is most commonly accessed via the popular Icehouse Canyon trail, gateway to the Cucamonga Wilderness.
I park at the trailhead, which offers the not entirely unreasonable starting elevation of 4950', plus excellent access to a cornucopia of nearby summits, including Telegraph peak, Bighorn Peak, Timber Mountain, and Ontario Peak.
At this elevation, the Southern California snowpack is at best unreliable, but today there is snow piled up everywhere. Despite the snow, I choose to start hiking in my boots rather than skis to travel faster up the lower canyon.
To get to Cucamonga Peak, we must first climb to Icehouse Saddle, two and a half miles and 2500 vertical feet away.
That's a long haul just to get within sight of Cucamonga Peak, so I push my pace, trying to settle into a solid, steady rhythm. Once at the saddle, I'll traverse slightly down to another saddle, this one between Cucamonga and Bighorn Peaks. From there, It'll be another half mile and 1200 feet of gain—and I'll have to climb back to the saddle after I've skied Cucamonga Peak.
It's going to be a long day. But this is Southern California—if you want a good view, you're going to have to pay for it. Meanwhile, deep within the shady confines of Icehouse Canyon, I hike the trail alongside the creek, listening to the gentle babble of water across rock.
It's easy to get caught up in the beauty of this landscape—forgetting, perhaps, that you're now traveling in wilderness, with all the usual inherent dangers. This is particularly an issue with the Cucamonga Wilderness, which sits barely fifteen minutes from the nearest freeway, yet brims with potential hazards, including avalanches, rockfall, weak snow bridges, and exposed icy snowfields.
More on this last concern in just a moment...
For now, I make quick work of the slog up to the saddle, choosing to keep my skis on my back, following a well-established boot trail through hard, crusty snow. I keep a lookout for icy conditions, thanks to a friend's warning, but for now I don't see anything unusual—just lots of hard snow, frozen overnight. A slip here or there could be nasty, but that's just a typical day at the office.