Cucamonga Peak — Page 3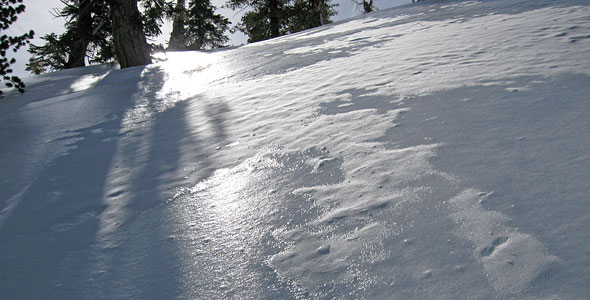 Traverse Treachery
I reach Icehouse Saddle in good time, where I'm treated to impressive views of Victorville and the High Desert, and of course Cucamonga Peak's northwest flank.
As you'd expect in the San Gabriel Mountains, the terrain looks daunting—steep and rugged. In particular, the traverse to Cucamonga Peak looks a bit more challenging than I was expecting. I can see I'll have to cross a number of steep gullies along Bighorn Peak's northeast face to reach Cucamonga's west ridge.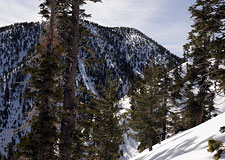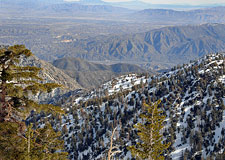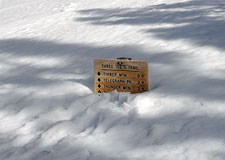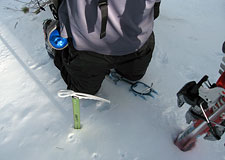 An alternate (and wiser) plan would be to simply climb higher, up Bighorn Peak's north ridge, until the traverse looks more feasible. But I'm of no particular mind to add extra vertical to today's endeavor.
So, on go the skis, sans skins, and I begin traversing through the semi-dense forest toward Cucamonga Peak.
Trying to decide whether to climb or traverse in the mountains never seems to have a clear answer.
Without skis and without a trail, hikers will find traversing nearly always a bad idea—it's just too hard to angle across steep ground.
But when you do have skis (sorry, a snowboard won't do), it's often possible to cross large distances quite quickly, even without losing altitude.
That assumes you've got the right mix of snow (hard but not too hard) and terrain (the fewer cross-gullies the better). Neither condition seems to hold today.
The snow at first is quite soft and mushy, making for a slow traverse that forces me to constantly burn elevation.
That changes abruptly when I cross a deep gully and swoosh up a shaded northeast aspect. Suddenly, I'm skating on ice—literally.
What follows is an inarguably desperate skitter-skate—a managed slide—toward relatively softer drifted snow.
Even here, my ski edges just barely bite, finding smooth, clear ice lurking just beneath the surface. I do my best to belay myself with my poles and delicately snap off my skis without tumbling down the icy gully toward who knows what. Repeated kicking with my boots barely puts a divot into the ice, meaning I'm still in imminent danger of a big fall.
And I have to say: this is something new. I've seen ice in the mountains before, but this potentially dire sheen of ice, blended oh-so-invisibly with spring corn, is a hazard I haven't seen before. Replaying the winter in my mind, it's easy enough to deduce what I'm seeing: the rain crust from several weeks ago, now revealed by surface melt.
I inch sideways until I'm standing against a small pine tree. Thus anchored, I pull off my pack and make a tricky transition to crampons and ice axe which—Thank Goodness!—I've brought along today. In the process, I wrench my back and slice open my ski pants with a crampon blade. It's ugly, but it works: I'm able to cross the ice patches in relative safety now, but this is hardly a good start on a long day.