Cucamonga Peak — Page 4
The West Ridge
When I finally reach the notch between Bighorn Peak and Cucamonga Peak, repeated encounters with ice and my worsening back have left me thoroughly demoralized.
The ice appears to be everywhere, glittering in the distance on Cucamonga Peak's northwest face, glittering behind me along the majority of the traverse to Icehouse Saddle. I've unwittingly discovered that conditions across north aspects in the San Gabriel Mountains are treacherous today. To add to my woes, my strained back feels absolutely wrecked.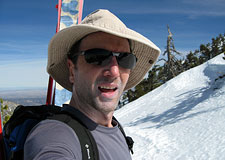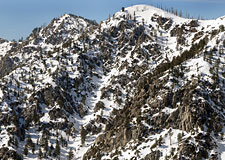 As I contemplate the long way ahead to Cucamonga's summit, it occurs to me that the most prudent course of action is to turn around, climb up Bighorn Peak, and do my best to get home in one piece.
And yet...
I'm reluctant to give up. Scouting the west ridge, I see hard snow but not true ice all the way up.
Ascending on crampons, it should be possible to keep to the ridge and avoid the ice.
And I can likely ski down the same way safely if the south slopes look bad.
I chew some ibuprofen tablets, drink water, and then begin climbing.
Whatever today's outcome, the views from the saddle are simply stunning.
To the north, Cucamonga's steep slopes drop into a deep drainage that winds all the way to Interstate 15.
To the south, the terrain is even more severe, from the rocky front of Ontario Peak to the plunging gullies of Cucamonga's southwest face. I can even see Mount Baldy Road in the distance and of course the vast and ever-present L.A. Basin. My back eases a bit as I climb, and my confidence returns as I steadily gain altitude.
This, I've found, is one of the odd pleasures of ski mountaineering: things always go wrong. The plan goes awry, conditions aren't what you expect, you or your gear stop working. Count on at least one of the above happening if you're lucky, much more if you're not.
All with all due respect for prudence, there's a lot to be said for tenacity—for pressing on in the face of adversity and wrestling out a measure of success. From my earlier struggles on the ice traverse, when my morale sank as success looked impossible, I now know that I'll soon be standing atop Cucamonga Peak and skiing down that fantasy south face.
I can't say for sure, but I'm guessing if it had been easy, it wouldn't be nearly as sweet.