Cucamonga Peak — Page 5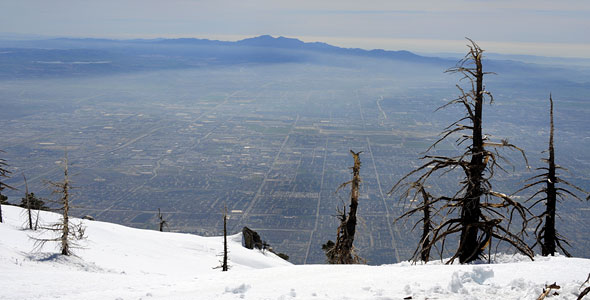 Proximity
I have dreamt of the view from atop Cucamonga Peak, and reality does not disappoint. The sense of sheer proximity is overwhelming. It looks like I'm flying above the Los Angeles Basin.
It looks like I could take one step off the edge of the summit ridge and plummet all the way to Orange County. The city grid runs right up to the snowy horizon, vanishing beneath as if we're hanging above it. It's a brain-teasing illusion made all the more potent by the preposterous notion that I'll soon be skiing over that edge.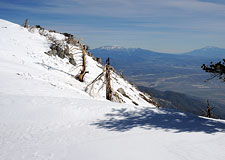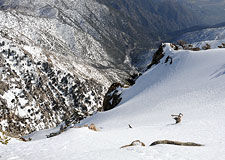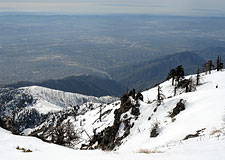 And what lies beyond, you wonder?
Surely some of the most inspiring ski terrain in the entire San Gabriel Range.
But first things first...I scramble up the last bit of ridge until I'm standing atop Cucamonga Peak.
Looking east, I can now see the impressive summits of Mount San Gorgonio and Mount San Jacinto, sister ranges to the San Gabriels.
I creep right up to the edge of Cucamonga's east face, not sure what to expect.
The view is startlingly vertical: the slope plunges downward, rolling immediately out of sight, maybe skiable, maybe not.
Down, down, the east face goes, dropping thousands of feet through jagged cliff bands to the Day Canyon drainage 6000 vertical feet below.
I'm momentarily tempted to try skiing right into that void, but this time caution does indeed triumph—though there's no question I'll be back again some day. In any case, the view to the south—which I am going to ski today—isn't too shabby, either. I see such an abundance of great skiing, in fact, I feel a little overwhelmed by it all.
Great, sweeping ridges drop thousands of feet, creating massive snowy gullies and cliff bands—a backcountry skier's delight. Despite the southern aspect, the snow extends well down the mountainside, easily three thousand vertical feet or more. That's quite a bit farther than I'm willing to descend, since I have to climb right back up again to go home.
Maybe I could just keep on skiing until I hit the city, and hitch a ride back to my car? Well, perhaps we'll save that notion for the next ice age. Let's be disciplined today. My plan is to ski conservatively, wrapping slowly around the mountain, managing my elevation so that I end up back at the saddle to Bighorn Peak. In this way, I'll at least get to sample a wide range of Cucamonga's offerings—and hopefully avoid getting trapped in the deep wilderness below.