Cucamonga Peak — Page 6
Skiing Cucamonga
Smooth velvety snow coats Cucamonga Peak's southern face, baked to perfection by the Southern California sun. The sky overhead is a piercing blue, smog-free.
Skiers speak reverently of the joys of perfect, untracked powder in the backcountry, but carving effortless arcs across flawless spring corn can be every bit as thrilling. The sensation of ski and snow underfoot cannot easily be put to words: simultaneously carving and sliding, flexing and dancing, working complex equations of truth and beauty.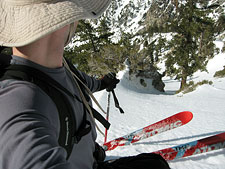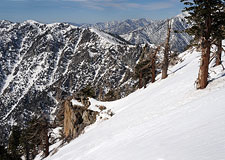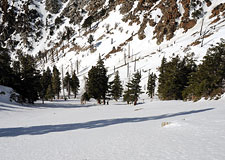 This is the poetry of gravity and freedom, and it is glorious. As tempting as it is to simply point the skis down and ride this line wherever it takes me, I am careful not to loose too much elevation.
After every hundred yards or so, I work my way westward, gradually traversing around Cucamonga's broad south face until I can see my exit route.
The terrain remains rugged throughout.
Deep, rock-banded gullies cut winding paths to the L.A. Basin, far below. Traversing across requires a little care: in many places, cliffs block the route.
As I move westward, the snow gradually hardens.
The pitch remains quite steep. Now I have to watch out for those icy patches, though here on the West Face the sun has at least softened the snow to a manageable level.
Crossing the west face's gullies proves to be one of the day's more technical challenges. Here again, the pitch is very steep, and rocky ribs create a network of narrow chutes that must either be skied or bypassed.
Now, I'm skiing deep into the jagged confines of Cucamonga Canyon, between Cucamonga Peak and Bighorn Peak. Despite my proximity to the city, this area feels utterly remote: a giant amphitheater of snow and sharp rock surrounded by wilderness. These city-bound canyons just beg to be skied in their entirety. I make a mental note to start scouting routes up Cucamonga from Upland.
For now, I continue my traverse and ski, and the saddle between Bighorn Peak and Cucamonga comes into view.I'm right where I want to be: no climbing needed to reach the saddle. For once, things are going according to plan—and I'm positively exhilarated by what I've just accomplished. In fact, it's hard to leave.
I expected the views atop Cucamonga to be magnificent, but the skiing has been a complete surprise. Once again, the San Gabriel Mountains have challenged my assumptions. Cucamonga Peak's city-side skiing may well rank among the finest in the entire range.