Cucamonga Peak — Page 7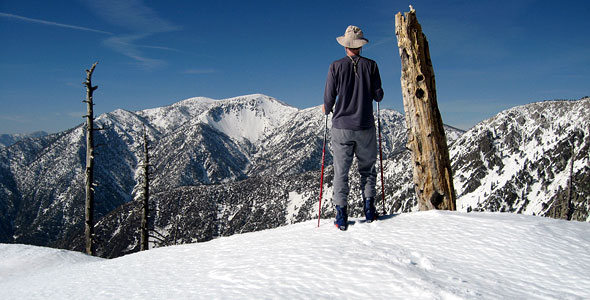 Bighorn Peak
When I reach the notch between Cucamonga Peak and Bighorn Peak, I decide what the heck I'll climb the extra five hundred or so vertical feet to Bighorn's summit.
I've no desire to attempt to retrace my traverse across Bighorn Peak's icy northeast face. Summiting Bighorn should allow me to avoid the worst of the ice—as well as offering a fine ski descent in and of itself. Now, I put on my climbing skins and begin a slow ascent of Bighorn Peak's east ridge.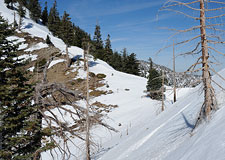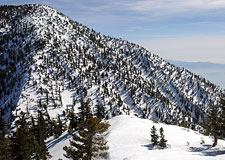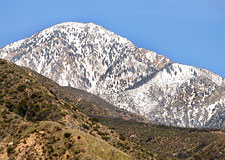 I'm not normally a big fan of extra climbing, but the ridge's soft snow makes for good skinning, and my soaring spirit puts an extra kick in my steps despite my fatigue.
All together, I'll have climbed and skied roughly 11,000 total vertical feet by the time I reach my car.
That's certainly a big day in my book.
Such endless effort might sound like drudgery, but there is a certain charm to putting one foot in front of the other time and time again.
The mind gradually quiets, and the body settles into a peaceful rhythm, content in the task in a way rarely found in the lowlands.
When we climb, we discover we are not nearly so frail as seems the case when we're sitting on the sofa.
There is work to be done here, to be sure, and effort to be given, but what great satisfaction it brings when I crest the last of the ridge, and top Bighorn Peak's fine summit.
Atop Bighorn Peak, I pop off my skis, find a nice sunny log to lounge upon, and take an extended lunch break.
Mount Baldy, at 10,064' the highest point in the San Gabriel Mountains, and Baldy Bowl now dominate the westward view. We might seem to be done here, but there remains a hefty 3500 vertical feet of skiing between me and my car.
I've skied Bighorn Peak previously, when I did my Ontario Peak Traverse, so I know from firsthand experience that the terrain will be lively. The lurking presence of ice scattered throughout the shady slopes below will demand extra caution, and the banzai-run through the clogged lower gullies of Icehouse Canyon will surely cause my tired legs grief.
But let us not forget where we are. This is Southern California Backcountry skiing. It's a bit of a miracle, isn't it, to find mountains and snow here at all? When I first drove to Los Angeles, a fish-out-of-water country boy speeding down the 10 freeway, the Mountain Avenue Exit in the San Gabriel Valley caught my attention.
Looking at a featureless (and presumed flat) horizon of battleship-grey smog in all directions, I remember pitying the city's millions of poor lost valley souls, thinking, Mountains? Yeah, you wish! And now I am a resident of this great and vexing place. Thank goodness that distant wish, at least, turned out to have been granted!