Stockton Flats — Page 2
Atop the Ridge
On a warm March 2006 morning, I tossed a rope, shovel, and helmet into my pack and hiked up the Devil's Backbone Ridge. My plan was simple: ski down as far as possible into the maze of Stockton's gullies.
The weather was warm and getting warmer, raising the specter of a ubiquitous feature of the San Gabriels: wet slides. I expected to be down my line well before noon, with a safe return via the forested ridgelines to the south. The incredible heating taking place, however, was making even that plan look marginal.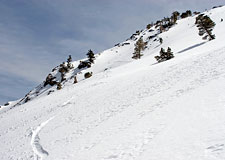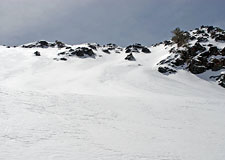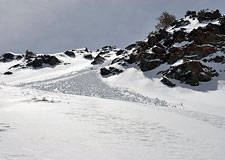 Given the north aspect of Stockton Flats, you'd expect ice to be the greater concern. But temperatures can skyrocket any time of year here, turning the snowpack into a moving river of slush.
After digging a snow pit to check for layering, I snapped into my skis. Thanks to my Girly Man Chute adventure, my toes could no longer tolerate my Mega Ride boots, so I was skiing in my heavy Lange L10's today.
That put an extra three pounds on each foot, which wouldn't cause any trouble for the descent—but would certainly be evident on the climb back up.
I was also wearing a helmet, out of respect for the increased rockfall hazard.
The pit showed exactly what I expected: an almost perfectly consolidated snowpack that was destabilizing rapidly due to warming. The evidence was utterly redundant: one look around showed snow in obvious signs of distress.
Point releases and pinwheels were scattered about, more frequent on the more easterly aspects. Mount Harwood's east face, as usual, looked like a giant toilet bowl in a perpetual state of flush.
Much of this activity had occurred the previous day, but it would be dishonest to claim it wasn't also happening now.
The upper slopes beneath the ridge top are steep enough to raise the heartbeat. The snow is very soft.
I'm pushing it, I know, and I'm very glad my return route will have nothing to do with these sun-baked slopes that are turning to mush all around me.
As a south skier, I've gained much experience with wet snow and its tendencies. I can almost hear it talking to me, telling me in advance what it's going to do. And doesn't that sound like a wonderful rationalization? The problem with wet snow, if you ask me, is that it's so damned predictable. It's hard to take a slow-moving monster seriously, especially if you think you can just leap out of the way.
I watch a spontaneous wet slide begin from an easterly aspect above me, which nicely punctures any lingering sense of complacency. More releases trigger from my ski tracks in the chute above. The snow is now in play, and it's time to be very picky about my route selection. From here on out, the game becomes identifying regions of risk and islands of safety: move quickly, point-to-point across risk zones, stop at the next island and plot the next move.
The terrain cooperates nicely with this strategy, offering a diverse range of spines, flats, and pinnacles to hide on, above, or behind. The snow continues to soften as I lose altitude. The air temperature may well be in the sixties. Mount Harwood's east face seems to rise overhead, dominating the horizon. Looking down, I see a maze-like network of gullies and cliff systems. Many of these gullies roll off, making it impossible to see if they're continuous, or if they dead-end over a cliff.