Stockton Flats — Page 4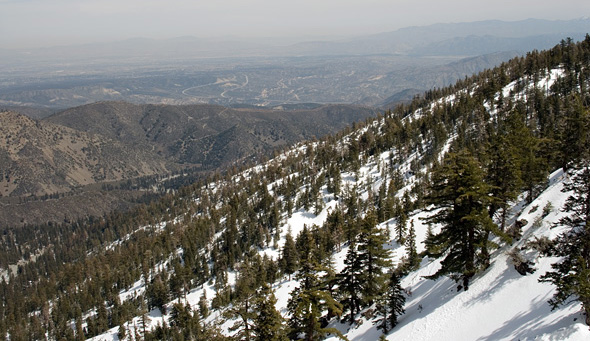 Entering the Narrows
From the relatively open bowls and chutes above and their fine views of Victorville and the High Desert beyond, the route again changes character as I descend.
The gullies narrow, in some cases becoming only a few feet wide, and high bands of cliffs separate them, making traversing difficult, or even impossible. Continuing my efforts to traverse across the lower gullies, I am at last trapped above a cliff band, and forced to descend. I do have a rope in my pack, just in case, but I'm not feeling rambunctious today, especially solo.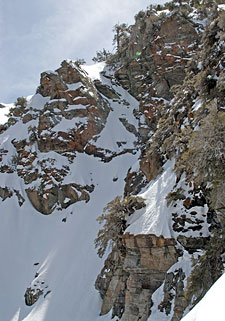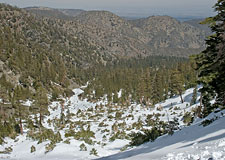 I stop at the edge of the gully and take a photo of an impressive wall of rock with a potentially skiable chute down the middle. With a little more coverage, it would make for an exciting descent—if I could every find it again in this maze of gullies!
And to be honest, I hadn't been expecting so much rock down here. I suppose by now I should know not to underestimate the ruggedness of the lower San Gabriel Mountains.
Is this where they're thinking of putting chairlifts, I wonder?
I know of quite of few ski areas that would kill to have lift-serviced terrain like this.
Back once more in yet another gully, I follow the funnel down, kept company by the rollers and pinwheels, though they're growing more scarce.
The last section cuts dramatically through high rock walls, and then, at last, I emerge from the base of the gully, and Stockton Flats proper appears.
Whatever your beliefs about avalanche hazard in the San Gabriel Mountains, one good look at the stunted trees in the Stockton Flats debris field should clear up any misconceptions. These north-facing gullies go big from time to time, and you don't want to be here when they do.
Given the size of the debris field, I think it's safe to assume that these trees were not carved out by late spring wet slides. No, this looks like the work of a slab avalanche. And that's food for thought for next season.
According to my topo map, I'm standing around 6600 feet, for a total vertical drop of over two thousand feet. It's been an interesting adventure finding my way through the maze of Stockton gullies. All I have to do now is climb back out.