Stockton Flats — Page 5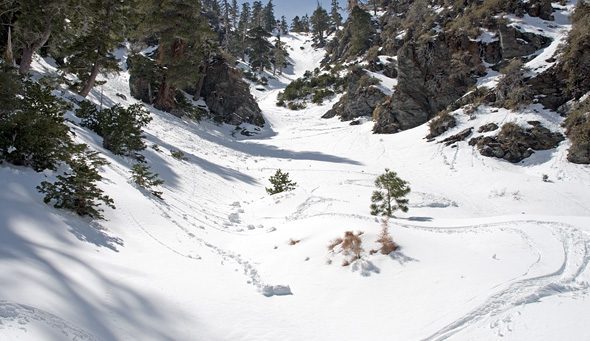 Climbing Out
I'm happy at last to have escaped the cliffs and narrows above Stockton Flats. These features, after all, are natural terrain traps, and even though I've calculated the risk of a massive wet slide as low, it's still nice to stand on safe ground.
I'm within a half-mile at most of the Stockton Flats Road. Assuming the road is open, it sure would be nice to have a friend with a truck waiting to pick me up. Instead, I've got a 2000 vertical foot climb ahead, though thankfully not up the exposed slopes I've just descended.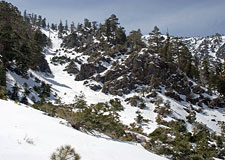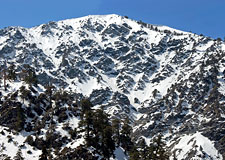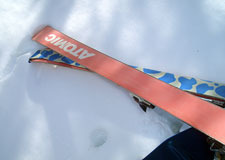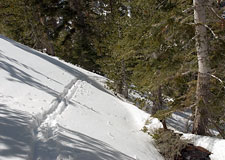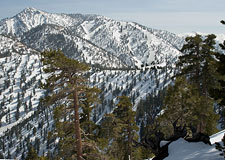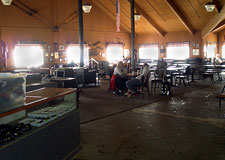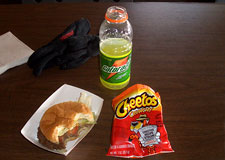 It's impossible not to be impressed with the severity of the terrain. Everywhere I look I see chutes, gullies, cliffs, more cliffs.
From my present vantage point, it's easy to see that several of the more prominent chutes dead-end. Either through good luck or good sense or some combination of both, I've managed to pick one of the continuous ones.
For those of you who pity us Southland Skiers—don't worry, we're doing all right.
And don't forget Mount Harwood! Towering now some 2500 vertical feet directly overhead, the east face of Mount Harwood looks as if it's been pilfered from one of the world's big ranges and plopped down right next to me.
I'm thinking of a word that starts with the letter 'H' but I'm too shy to say it.
I angle across the debris field, wanting to preserve elevation now, heading toward the densely forested east ridgeline, which will eventually connect to the backbone and Mount Baldy Ski Area.
Crossing over to the ridge is frustratingly hard—there are still the tailings of a few more gullies to cross, several of which can be mistaken for the right ridge.
When I finally reach the base of the ridge, I stop and put on my skins. Only 2000 vertical feet to go. Okay, I'm ready for my chairlift.
Mount Harwood remains a constant presence as I slowly skin up the eastern ridgeline. The angle is just high enough to make the ascent challenging but doable.
The snow is very wet, but well shaded (and supported) by the trees. This would be a safe route to travel even in high avy risk conditions.
What is there to say about climbing 2000 feet after you've done your descent? It's a long way. I'm of the opinion it's much more fun to get the climbing out of the way first, and then ski, but we must work with what we have.
The shade of the forest is welcome on this warm March day. I've sweated out all my water, and a few muscles begin threatening to cramp. The extra weight of my Langes certainly isn't helping.
Up, up, up. What a punishing way to end a day. I amuse myself by fantasizing about Gatorade and a cheeseburger. And some chips.
It's nice, after the unexpected twists on my previous tours, to find myself on-route and on-schedule, even if I am exhausted. I've even waxed up my skins to keep the snow from sticking—though believe me, it's trying. In addition to the vertical I've lost, I've also traveled a difficult mile or more away from the ski area, thanks to the area's unique topography.
I keep thinking I ought to be able to traverse back over to the Mount Baldy Notch, though I know better. A traverse, in fact, would only hang me up over more steep terrain, this time actually south facing, and so likely bare rock. Once again, I'll stress the importance of reading a topo map before you venture into Stockton Flats.
It's a very confusing area.
Let's just skip ahead: some abominable amount of time later, I finally crest the ridgeline, allowing me to see Telegraph Peak and Mount Baldy Ski Area's Thunder Mountain. What a welcome sight! It's still a difficult traverse across the upper slopes of Coldwater Canyon to return to the ski area, but having my goal in sight is a huge mental boost.
I can't resist pulling off my skins and trying to traverse across. Given the spotty coverage, this likely proves longer than just following the ridge all the way up, but live and learn, as they say.
After a short scramble up a gravel hill, I'm back in bounds, though as a final cruel twist, my skis are so sticky I can barely descend the last few hundred feet of Rollercoaster. That's okay; I'm urged onward by the sight of Mount Baldy Lodge. I stagger inside, half-crazed with hunger and dehydration, drop my pack on the floor, and head straight for the water fountain.
Ah! It's been another great day in Southern California's San Gabriels. Cash in hand, I get my cheeseburger, and some salty Cheetos to boot, and soon enough I'm munching away, as happy as can be. Hmm...looking at that cheeseburger is making me hungry. I don't know about you, but after all this work I'm going to go find some food.