Skiing Stockton Flats
Exploring Mt. Baldy Ski Area's Proposed Expansion Area
Take a look at Mount Baldy Ski Area's trail map, and you'll see a deceptively modest expansion area called 'Stockton Flats' dropping north from the top of Chair 4.
Mount Baldy has been trying to expand into the Flats for years. The US Forest Service approved the development plan in 2002, but funding and other issues remain unresolved. While the Flats appear to be a relatively gentle, gladed area (as drawn on the trail map), in reality the terrain is steep, banded by cliffs, and carved with deep gullies that funnel away from the ski area.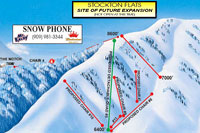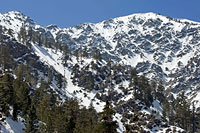 Stockton Flats can be considered a classic Poacher's Trap: tempting skiers to sneak underneath the orange rope of the ski area boundary, then leading them into confusing, technical terrain with no easy way out.
It's especially difficult to return to the ski area once you've committed yourself.
Upper glades entice the backcountry traveler into quickly giving up elevation. Even a descent of a few hundred vertical feet, however, makes for a challenging return. In fact, the chutes descend away from Chair 4—not alongside, as expected.
Skiers who think they need only traverse a short way to return to the in-bounds terrain are in for a jarring surprise. If you're even considering accessing this area from the ski resort, studying a topo map beforehand is mandatory, as is traveling fully equipped with ascension gear (either skins, snowshoes, or a splitboard).
Obviously, given slope aspect and angle, this is avalanche terrain as well. The safer alternative is to approach Stockton Flats from below, via Lytle Creek and the Stockton Flat Road. That way, at least, you'll know what you're getting yourself into. For those unfamiliar with the San Gabriel Mountains, the steep gullies beneath 9552' Mount Harwood's east face are among the wildest terrain in the range.
From the top of the ridge it's possible to descend over 3000 vertical feet into the Flats—a ski descent ranking second in size only to Mount Baldy's north face. Avalanches and rock fall are a constant concern, as is getting hung up above a cliff and having to backtrack. It's easy to get lost here. Confronted with this abrupt, hostile landscape, Southern California skiers and snowboarders can be forgiven for thinking they've somehow entered an extreme skiing Twilight Zone.