Harwood's Northeast Ridge — Page 2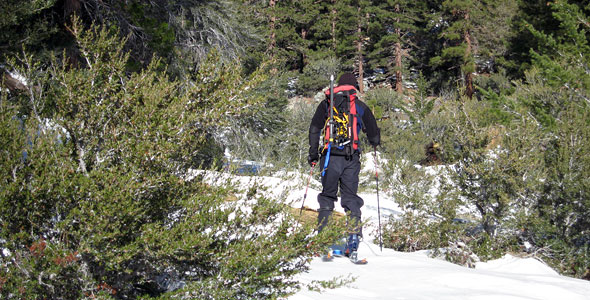 Secret Hidden Canyon
Often the crux of a ski mountaineering route is simply finding a way to get yourself and your gear atop the slope of snow you hope to ski. That is certainly the case today.
Separating us from Harwood's inviting north slopes are 3500' of vertical and an equally daunting gauntlet of cliff-bound terrain. From Bill's truck we skin easily up the flats of Stockton Flats, contouring around what is a large, debris-strewn drainage.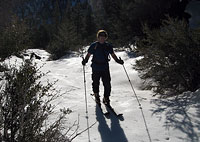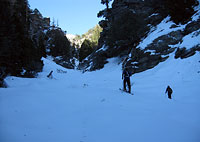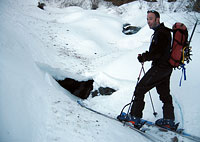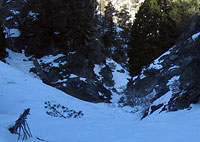 Soon after, we veer westward, into a strikingly narrow gully that penetrates the deep divide between Mount Harwood and Dawson Peak.
Make no mistake: this is rough country.
Thickly forested here at the entrance, there is in fact no guarantee that this currently-invisible gully will even open enough to allow us inside.
But oh, how I'm hoping!
I follow Dan into the thicket of trees, as steep walls of rock shoot up instantly to either side of us.
These steep, loose, crumbly cliffs are a ubiquitous feature here below Harwood's east face—and indeed below Dawson Peak's south face as well.
We are pinched between the two peaks, and as we progress the gap is narrowing.
Then—surprise!—the trees part and we're in a credible though sunless gully leading theoretically right to the heart of those north aspects we've been dreaming about. In no time at all we're a couple hundred yards farther, already congratulating ourselves on this spectacular find.
Secret Hidden Canyon (as I've come to name it) is offering an easy highway into the heartland of the San Gabriels. Things begin to collapse—literally—moments later. Dan skins onto a hidden snow bridge and gets a fright when a 10' by 10' section of it collapses into deep rushing water.
He backs carefully away without further incident. But I've been looking ahead, where I see the canyon we're following appears to close to two feet or less in width. Can we get through? I press ahead, suddenly forced to take off my skis because of ice and more water.
I punch through a stand of willows, where I get the outrageous verdict: the way is blocked. A tiny waterfall blocks our path, protected by a four-foot-deep pool of water. There is no way around save a swim, and even that looks questionable, as a good ten feet of slick rock covered in rushing water must somehow be gained to pass through the notch to the open gully beyond.
I can't believe it. Our highway has been ruined by a miserable three-foot-high waterfall. Climbing to either side above the fall looks unpromising: impossible to the left, dicey to the right. And just like that, our north-side mission appears to be over.