Harwood's Northeast Ridge — Page 3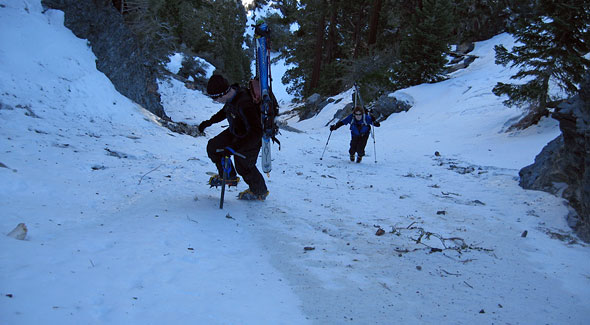 Chute No. 1
It's barely 8:30 a.m. and I'm already fully disgruntled. I'm game for trying the right-side scramble, but consensus sends us left instead.
Bill suggests we climb a steep chute fifty yards back down the gully. It looks like it might get us up Harwood, or at least offer a bit of skiing, and that's enough to clinch the choice. The chute vanishes high above in a maze of cliffs and headwalls. The guts of it are comprised of rock-hard crust and ice garnished with rock shards.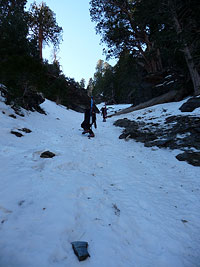 The appearance of it is not particularly what I'd call promising, but we're all feeling a little miffed by now, and that's pushing our stubborn buttons.
I switch to crampons and axe and begin ascending the chute.
The wind is kicking up now, sending clouds of rock shards down at me every few steps or so, and the steep snow, I see, is actually glazed with clear frozen water.
It occurs to me that there's no way in Hell I'm going to try to ski down this chute.
That means we'll either be downclimbing it to get home—or we'll have to find another escape route. Neither option is particularly compelling. I stop and relay my thoughts to Bill and Dan.
They're lower in the gully, perhaps not as intimate with the chute's exposure yet. They want to continue upward, and truth be told, I don't really want to bail either, so up we go. Worst case, I figure, we'll be forced to ascend all the way to Harwood's wind-blasted summit, from which we can descend the Devil's Backbone to the Mount Baldy Ski Area, and then ski the backside back down to Stockton Flats and the truck.
As a fallback plan that leaves much to be desired, but it seems plausible enough, which successfully meets my minimum criteria of never advancing where there is no possibility of retreat. Of course, higher up, the chute begins to close out on us, and we are forced to shift our plan yet again.