Harwood's Northeast Ridge — Page 4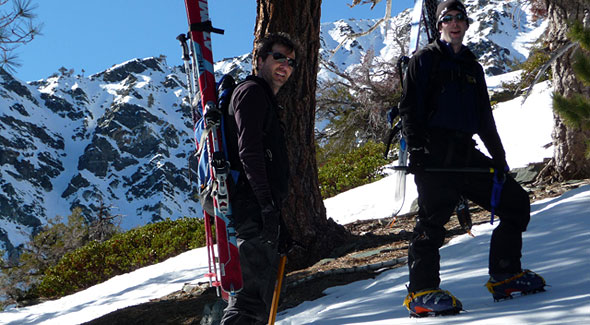 Climbing the Ridge
As the chute we're climbing gradually appears to close out, we traverse to our left, hoping to find easier ground along Mount Harwood's Northeast Ridge.
Away from the chute, the snow softens. This is at first a welcome development. Continuously climbing on hard, exposed snow wears at my nerves. But now we're starting to post-hole in deep, sugary snow, coated by an inconstant crust. Sometimes we punch through. Sometimes we don't.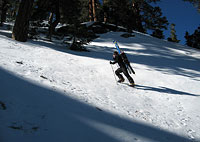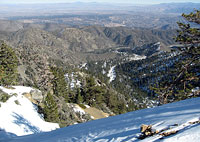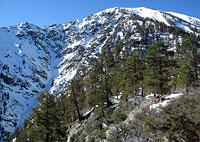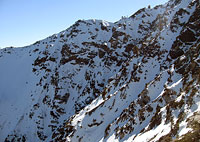 Climbing 2000' feet of it promises nothing but grief. We gain Mount Harwood's Northeast Ridge, opening up fine views of Stockton Flats, I-15, and Victorville far below.
Here, there are a new set of considerations.
We stop for lunch overlooking the steep drop into Harwood's east drainage, and talk things over.
Lengthening January shadows plus tough post-hole climbing plus ripping ridge top winds suggest that making a bid for Harwood's summit (still high above) is off the agenda.
Still, we'd like to ski something, having gone through all this effort already.
We agree to climb for an hour, then (hopefully) ski back down. One big concern: what's our exit?
As mentioned earlier, I'm trying to stay true to my don't-paint-yourself-into-a-corner rule, and as far as I'm concerned skiing the chute below is out of the question.
Bill suggests an alternative: attempt to find a route through the cliffs and talus to our left down into the Harwood drainage, which would give us easy access back to the truck.
There is a bit of a leap of faith to this idea.
Bill thinks he sees a viable scramble beginning from a saddle just ahead. I take a look. I'm not as optimistic. Picture a giant horseshoe. Topographically, the shape reasonably corresponds to the drainage beneath Mount Harwood's east face.
We're on one side of the horseshoe—the Northeast Ridge—and our challenge is to make our way down into the center. But now add a confusing tangle of cliffs, spines, gullies, trees, and loose talus to our mental model. The lower reaches of the San Gabriels can be utterly impassible if you happen to be in the wrong spot.
Because of the trees and the angles, we can't see enough of this potential escape option to verify whether or not it actually exists, though the odds seem to favor it. Still, this is exactly the sort of situation that ought to trigger a mountaineer's warning bells. Placing your bets on an unknown exit can easily come back to bite you.