Harwood's Northeast Ridge — Page 6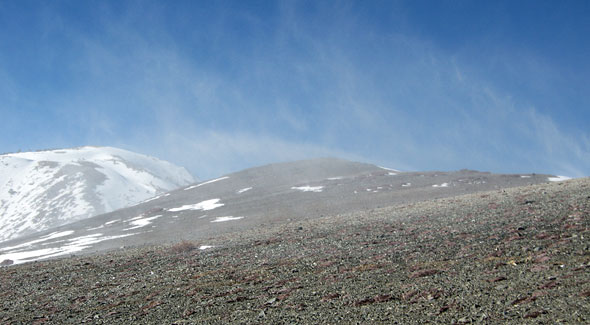 Atop Harwood
My God, that was awful! I am huddled in the relative safety of Harwood's leeward slope, waiting for Bill and Dan to appear over the lip of the summit ridge.
One moment I was redlining my pulse in panic, groveling upward, and then the wind cut dramatically as I crested the summit ridge. I am relieved. Though the skiing ahead will likely be awful, and there is yet a long way to go, I now know we'll make it safely back to the truck.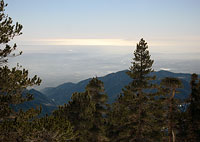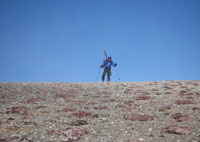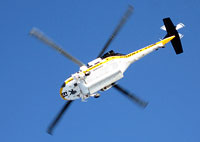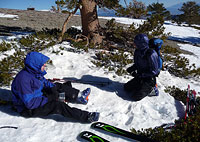 The wind on Harwood's south slope remains formidable—enough to knock you over.
But it is a far cry from the merciless assault barely fifty yards to my north.
The sun helps warm my wind-frozen fingers, and pastoral views of the Los Angeles Basin to the south calm my frazzled nerves.
Soon, I see the tottering outline of Dan materialize through the maelstrom of contrails as he crests the summit ridge.
I shake Dan's hand when I see him. Bill comes next a moment later.
He seems about to get through the worst of the wind unscathed, but suddenly gets slammed to the ground by a final, fitful blast. His favorite ski hat goes flying off to Orange County—gone.
Luckily, he's unharmed.
A Sheriff's helicopter shoots overhead, as if checking on us, and then aggressively dives straight over Harwood's north face.
I'm glad I'm safely on the ground.
Bill, Dan, and I exchange war stories of our battles with the wind.
None of us have ever attempted to climb through gusts that high.
We each of us hope never to have to do so again. Experiencing high-altitude wind in all its naked fury quickly instills a profound sense of respect in mountaineers. Wind on exposed ridgetops is a mortal threat, and though we are all safe now, I am privately angry with myself for putting myself and my group at risk today.
I just didn't take it seriously enough, I guess, which is a hazard all too common in the Southern California ranges. We assume because we're so close to beach and city that we're not in real mountains. We get lulled into a false sense of security here, so close to home. Would any of us have attempted something similar in the High Sierra, with obvious winds nuking the summits?
Of course not—to the contrary, we would decry as fools any who even dared consider it.