Harwood's Northeast Ridge — Page 7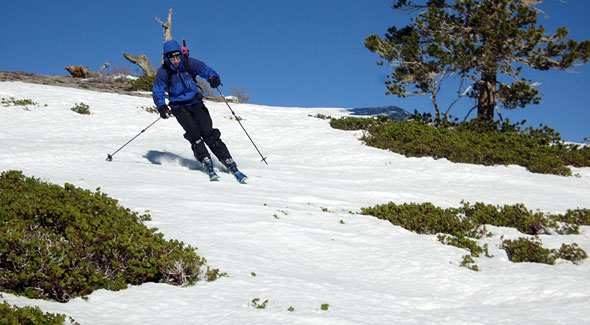 Skiing?
Originally, this was supposed to be a ski outing, though my sales pitch for the day was 'challenging terrain and crappy skiing.' Item one has been delivered.
As for the skiing...we snap into our bindings in a wind-protected stand of trees to the south of Harwood's summit. I make several jittery turns on rock-hard snow, until abruptly the snow vanishes, leaving only bare dirt ahead. Yep: looks like I called the day perfectly.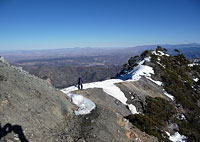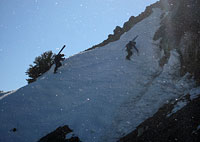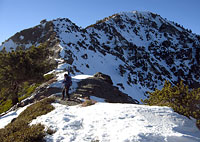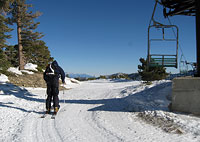 Off come the skis. We scramble down loose, brush-covered ground until we join the Devil's Backbone trail.
From here, it's an easy walk to the Mount Baldy Ski Area—just a good old fashioned mud slog in ski boots, with the occasional jarring wind blast to keep you honest.
Easy, that is, except for the Backbone Trail's one bona fide tricky spot, a.k.a. The Step—a shady patch where ice and exposure create 25' of grief every winter.
We switch back to crampons and ice axes for this short but nasty section before returning to safer ground.
Safe, however, remains relative.
By now, Harwood's east face and indeed every north aspect on the mountain is deep in shadow.
No doubt the snow is frozen hard as battleship armor.
Where the ridge narrows to a knife edge we must walk a tightrope of icy snow perched over blue steeps leading down to the abyss.
The wind seems to anticipate these exposed sections of trail, and rages with extra intensity wherever they appear.
Looking down into that blue shadowed world below, I am thinking about how we're going to descend the over-3000 vertical feet down north slopes to get back to Bill's car. Our salvation depends on a winding Forest Service road, closed to vehicles, which ends (we think) somewhere in the vicinity of the Mount Baldy Lodge.
This road, we believe, will eventually take us right to the doors of Bill's truck. Find the road, goes our thinking, and we find our way home. It's a relief to finally put the Devil's Backbone Trail behind us. We return to skis for a short slide down toward Mount Baldy Ski Area's Chair 4.
Here's an odd experience: sneaking under the rope to get in to a ski area. It feels not unlike breaking into jail, or at least I assume that's what it feels like, since I've never broken in or out of the slammer—as yet. Oh well, after the bare ground above, I'm looking forward to easy turns on a nice, gentle groomed run. I promise the boys the best backcountry skiing of their lives—inbounds—and shove off for greener pastures below.