Mount Harwood: Northeast Ridge
A Southern California Ski Mountaineering Adventure
LOS ANGELES, CALIFORNIA — for a range surrounded by the cities and suburbs of Southern California, the San Gabriel Mountains can prove maddeningly inaccessible.
The easiest path to Mount Baldy's north face, for example, requires one to climb the mountain from the south, descend the north face, and then climb back up to the summit. In other words, to ski one of the most coveted lines in Southern California, you've got to climb the mountain twice.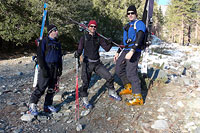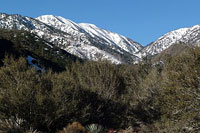 Welcome to Southern California Ski Mountaineering.™
If adventure is your game (as in, gruel, slogs, and unexpected misery), you'll find none better.
My compatriots Bill, Dan, and I are gathered somewhere in the bowels of the San Gabriel Mountains, elevation 6000 feet, on an exploratory mission seeking out north face access.
Ostensibly our target for the day is Mount Harwood and its north aspects. The real goal, however, lies just around the corner: those pristine steeps on the range's high point, 10,000' Mount Baldy.
Should we prove successful in accessing Mount Harwood from the north, neighboring Mount Baldy and its sublime nordwand would seem to lie within easy reach as well. This bit of magic is to be accomplished not ala helicopter or space time warpage, but rather via a nondescript dirt road passing through inarguably shady places en route to Stockton Flats and the east face of Mount Harwood.
The preliminaries have been handled by Bill, our intrepid pathfinder. One week earlier, he scouted up the road in his 4x4 to verify its plausibility. Yes, the remote (but perhaps not remote enough) Stockton Flats area is disturbingly garnished with broken glass and empty shotgun shells...but road access is road access, so we lock our car doors and cross our fingers.
Then, as a cold January wind blows up the mountain, we don boots and skis and prepare to hike inward, bold explorers buoyed by the hope that we have at last found the Holy Grail of the San Gabriels: north face access to Harwood and Baldy.