The Couloir to Nowhere — Page 10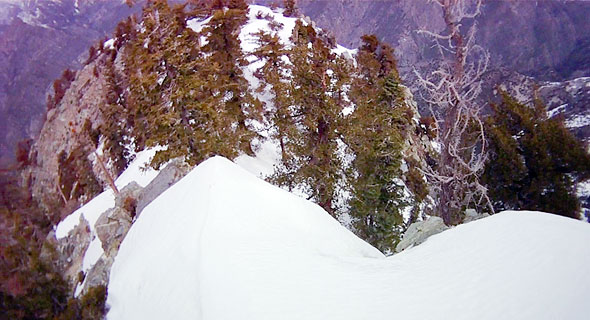 Skiing the North Ridge
Iron Mountain's north ridge does not disappoint. Every aspect suggests danger: steepness, wild exposure, huge rollovers to each side vanishing into the unknown.
I have stared at my Baden-Powell shots endlessly, trying to determine whether it is even possible to traverse the north ridge and gain entrance to the couloir. Now, the ski mountaineering begins: I try to match mental landmarks to actual terrain features, hoping to get us safely past the many obvious hazards between us and our objective.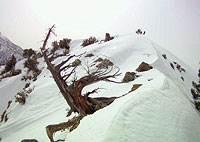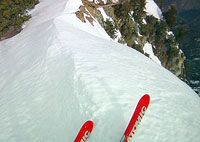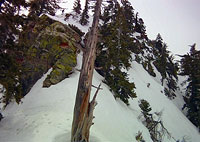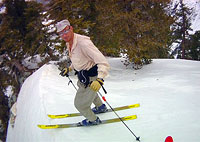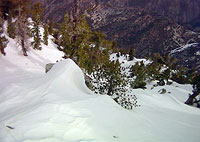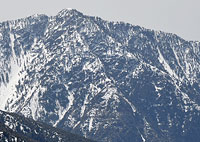 We begin with the threat of ice.
To either side of the ridge—east and west—lie impressive cliffs we cannot afford to become acquainted with.
So begins a creepy-crawly ski traverse in which each pitch and aspect must be carefully assessed for any possibility of iciness.
I side-slip with my skis right on the apex of the ridge for maximum grip, but I'm soon satisfied that my ski edges are biting. The snow is firm up here, but ice does not seem to be a problem today—check.
Challenge Number Two is potentially a big one: in my scouting photos I've noticed a step along Iron Mountain's north ridge about halfway between the summit and the cliffs above the couloir.
This step appears like it might be passable to the west, but if we can't get around it, our ski day will be a short one. We'll be forced to turn around and go back home.
We work our way carefully along the ridge, heading toward the step.
The views are mind-boggling. I'm feeling a flutter again now—but this time it's in my belly, as the ridge's exposure jangles my senses.
The step does indeed prove to be a bit of a thorny challenge, but it goes to the west, just as I thought it might. A short side-slip down slightly-too-crunchy snow gets us around it with only minimal alarm.
The Third and last challenge entails navigating the cliff bands above and below the couloir's entrance. The key is finding a narrow band of snow that should enter the couloir from the west.
Again, I'm working from memory of photographs taken from miles away, so there is a healthy dose of uncertainty to all this, but after The Step, I find Iron's north face opens up a tad, offering a section of modestly steep trees and glades.
The snow becomes wintry here. I work cautiously around cliff bands seen and unseen, hoping I'm aiming us toward the entrance to the north couloir.
What will it look like, I wonder? An inviting snow-filled gully, or a cliff-bound unskiable mess?
The anticipation is unbearable. So close now.
I hear Dave and Lou talking somewhere in the distance above me. They're a little too far west, I think. I shout up at them, tell them to follow my tracks as I traverse hard right, eastward, toward a promising looking rocky spine. Iron Mountain's north couloir sits within a deep gash, I know, such that it is hidden from view from nearly all angles. That makes finding it now a little tricky.
Also tricky are these ever-present cliff bands. Choose the wrong line, and you'll get hung up atop one of them. I keep traversing, wondering now if I'm leading everyone into one such dead end. But that spine—it looks familiar. As I near it, the view opens up just a touch, suggesting a narrow, vertical gully with snow in it. I think I've found the line. I shout again to Lou and Dave. I think we've found it.