The Couloir to Nowhere — Page 12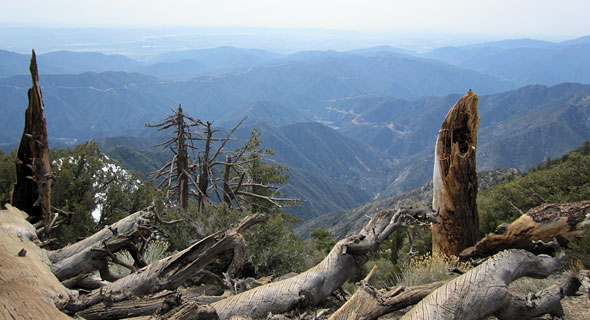 Once Again, In Reverse
Fast Forward: back on top of Iron Mountain, I find a warm sunny place to rest. Here, I pull off my ski boots and gaze longingly at the impossibly-distant Heaton Flat parking lot.
The climb back out of the couloir wasn't bad, to be honest—though perhaps I was fueled by more than a little adrenaline from having just skied it. The hike down promises to be quite a bit less comfortable.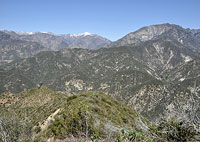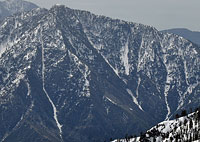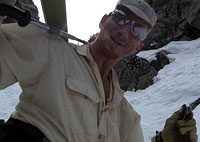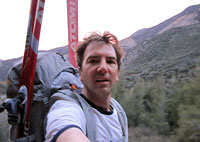 So I think I'll take a moment now to relax, sip some water, and enjoy the view.
If I take a measure of pride in my skills as a ski mountaineer, it is not so much for doing things like skiing 55° descents or taking great personal risks.
I prefer to find challenges that offer at least a tiny bit of wiggle room, in case something goes wrong. We all make mistakes, after all, and even if you don't, you can still get unlucky.
I think what I find most satisfying these days is making unlikely things happen.
It is one thing to envision a line; it is another entirely to go through the process of actually going out and skiing it. In this regard, I was coming to believe that Iron Mountain would forever thwart me.
It has taken a lot of patience and probably a good bit of luck to get to this place today. But it feels good. It feels fantastic.
In addition to elation I must also confess I feel a great deal of relief. This White Whale, at least, is done.
Or, more accurately, mostly done. At some point I've got to get off this log, pull on my hiking boots, heft those skis onto my back, and start tromping downward.
But we don't have to start down just yet—let's enjoy this moment together a little longer. It's funny, but Iron Mountain strikes me as the most team-oriented adventure I've ever assembled. Maybe I really am putting my solo days behind me. Or maybe I haven't fully appreciated how involved others have been in my life, even in those moments when I felt most alone.
Thanks again Dave for being a part of this most excellent trip—and for doing such great work with the video camera. Lou, thanks for keeping me going up that cursed south ridge when I thought my tank had run empty. Al, Dan, Bill—you should have been there. But then again, you were, in a way. Those days we spent scouting San Antonio Ridge provided invaluable beta. And it didn't hurt to get my mental toughness kicked up a notch or two in Coldwater Canyon, either.
Finally, Dad, this one's for you. Thanks for driving me to Colorado, and thanks especially for putting me on skis! I still remember all those trips across the desert in the middle of the night listening to Mystery Theater on KNX 1070 news radio, Los Angeles.
Well, that's probably enough of a break for now. Time to pack up and get these weary old bones back home to my family. I've got pretzels in my pocket, and a full bottle of water on my hip. 7200' feet to the Heaton Flat parking lot? I'm ready...