The Couloir to Nowhere — Page 3
San Antonio Ridge
From the lowlands of Heaton Flat and the San Gabriel River Valley, our attention soon shifted upward and eastward, to the summit of Mount Baldy and San Antonio Ridge.
San Antonio Ridge connects the summits of Mount Baldy and Iron Mountain, which is roughly four and a half miles due west of Baldy. We knew we could get atop Mount Baldy with skis—we did that all the time. Instead of coming up Iron Mountain from below, perhaps it was possible to come at it from above, via the ridge.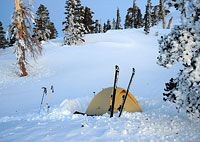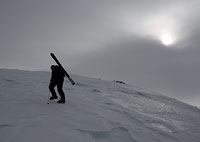 It was far from a trivial plan, but it at least had a ring of feasibility about it.
Spend a night atop Baldy's summit, Bill and I decided, then make an early dash for Iron Mountain down San Antonio Ridge.
From Iron's summit, scout and/or ski the couloir, then return back up the ridge to Baldy's summit, ultimately exiting via Baldy's southeast bowl.
Heck, it just might work.
In any case, the plan sounded a lot better than anything else we could think up. So, two weeks after we'd stood atop Baden-Powell, we were back in the San Gabriel Mountains, for the familiar Baldy Bowl-Ski Hut Trail ascent.
Carrying winter overnight loads up from Manker Flat made for a long, slow day. We arrived at Baldy's summit with the sun low on the horizon.
Spotting an opportunity for some sunset turns off the summit, we dropped our packs and skied westward into the setting sun—still one of my fondest backcountry skiing memories.
We spent a chilly night shivering just below the summit in Bill's tent. Unfortunately, when we climbed Mount Baldy's west summit the following morning, we discovered the entire west face was coated in ice.
There wasn't much we could do. San Antonio Ridge is long, steep, and exposed. Covered in ice, with what looked like worsening weather fast approaching, the endeavor had taken a technical turn that neither Bill nor I were ready to tackle. Those sunset turns turned out to be the highlight of the trip. We packed up our camp and headed back down Baldy Bowl to the Ski Hut Trail and the car.
What was frustrating about the effort, in the debriefing room, was that we hadn't really learned anything from it. Other than discovering that the west aspects of Mount Baldy including San Antonio Ridge can be too icy to ski—which was hardly breaking news—we had no new information as to the viability of traversing the ridge on skis. Nonetheless, that was our only attempt that year. Other objectives captured my attention, and Iron Mountain's north couloir moved to the back burner.