The Couloir to Nowhere — Page 7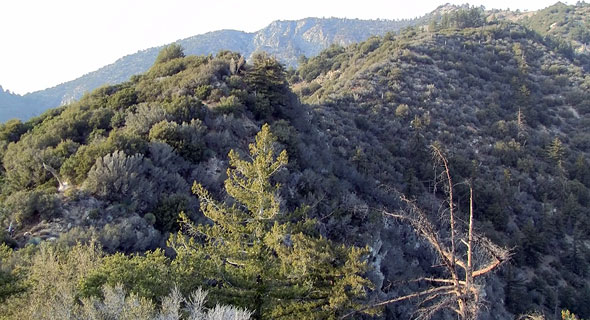 The South Ridge
Dave and Lou are indeed waiting for me at Allison Saddle. I walk up, drop my pack, and deliver the bad news: I don't think I can go any farther.
From Allison Saddle, the route up Iron Mountain quits the Heaton Flat trail and simply scrambles up Iron's south ridge. Leaving the trail promises to make the hiking more difficult—steeper for certain, and at least as much brush to contend with.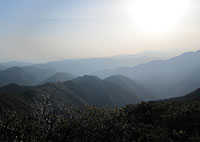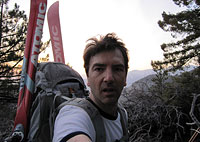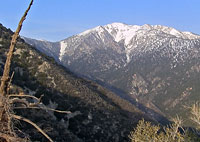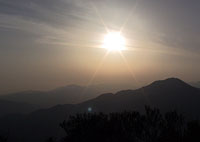 The summit remains at least another 3500 vertical feet higher, not including the inevitable dips and contours.
From head to toe I feel out of it—soaked in sweat, slightly nauseous.
I sit in the dirt beneath the shade of a Manzanita, drinking Gatorade and trying to nibble on some salty foods.
Without hesitation, both Dave and Lou encourage me to try to keep going.
It seems theoretically possible that re-hydrating might put a little life back into my body, but I know there's no way I can match their pace.
However, a nifty idea occurs to us: maybe we can find a patch of snow hidden someone ahead along the ridge. That would allow us to camp below the actual summit—giving me the break I need (maybe) to allow me to keep going.
Dave agrees to scout ahead for snow. Lou agrees to hang back with me, matching my snail pace upward. If my legs hold, I'll keep climbing. If not, Lou will relay to Dave that I've turned back.
It's a plan. And with the sun lowering toward the horizon, and water and food starting to take effect in my belly, I begin to feel a little less wasted.
Dave grabs my skins and stove to pull a little weight out of my pack. Lou takes one of my water bottles. With a lighter load and time for the fluids to work their way back into my muscles, I find I'm able to hold a slow but steady pace upward. My legs feel far from solid, but with careful footwork and pacing, I'm able to avoid that awful fluttering sensation.
To our surprise, the South Ridge affords us a small but much-needed measure of generosity: we find a well-established use trail leading up its rocky spine. Even the tree branches prove a little less snaggy than below, permitting (slightly!) easier passage for us and our ski tips.
Most importantly, with it once again possible that I might actually ski Iron Mountain, I experience a huge morale boost. Still, the success of my second wind effort depends on Dave finding snow well below the summit. I figure I'm good for maybe another thousand vertical feet or so. After that...well, I just really don't want to think about it. Pray for snow!