The Couloir to Nowhere — Page 8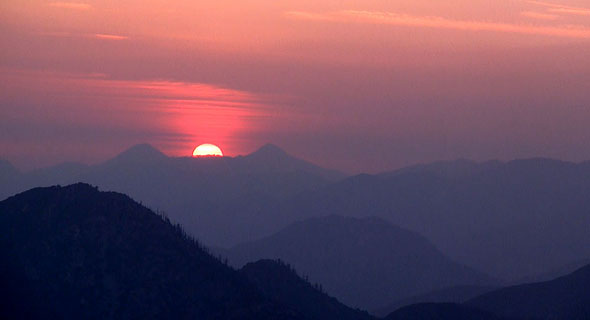 In the Zone
The sun is low on the horizon and I'm in the zone. Or, more accurately, I'm zoning. Something causes me to abruptly snap out of it, and I'm momentarily disoriented.
Where am I? I wonder. Slowly, I take in my surroundings, discover skis on my back, see that I'm slowly working my way up Iron Mountain's endless south ridge. Ah, yes...now I remember. Still: what the heck am I doing here?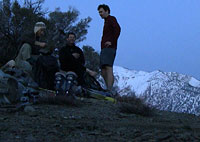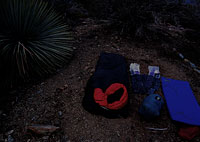 The audacity of this undertaking astonishes me.
And perhaps even more than that, I'm amazed I actually found two other people willing to come along.
I hear Lou and Dave at that moment whooping above me. Dave has found a clean patch of snow hidden on the north side of a dip in the ridge, and is firing up the stove.
We are barely past 6100 feet in elevation, but we've found water and thus our camp site for the night. I shrug off my skis and backpack and set about a serious mission of refueling my spent body.
At our present perch on the ridge we seem to tower over Coldwater Canyon and the distant Los Angeles Basin. Amazingly, Iron Mountain's summit remains nearly two thousand vertical feet higher. The sheer scale of the peak and effort easily recalls some of the biggest hikes I've ever done—Williamson; Tyndall. Iron Mountain gives away little beside them.
The sun dips behind the horizon as we melt snow to make water. The lights of Los Angeles spark to life, filling the darkness below. As the air begins to chill, Dave discovers he's forgotten his sleeping pad. Creative inspiration strikes: Dave asks if he can use my skins as bedding. I'm happy to oblige; after all, he's carried them partway up this hill.
So Dave has been right after all: we did need skins. Though perhaps not for the use he intended. In any case, our skins make for a fine bed for Survivorman Dave, along with some pine needles and brush. As for Lou and I, we prefer the more traditional bedding of our Thermarest pads, and soon we're all at rest, staring at the stars, thinking of the day ahead.