The Couloir to Nowhere — Page 9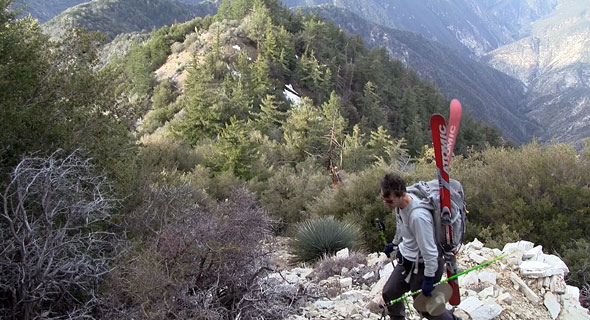 The Final 2K
We're all feeling a good deal more chipper the following morning when the sun makes its way over West Baldy. Summit day has belatedly arrived.
With dinner and now breakfast in my belly, and my body relatively re-hydrated, yesterday's heat and troubles seem like a bad memory. Also driving us now is the knowledge that a mere 2000 vertical feet separate us and our skis from Iron Mountain's summit.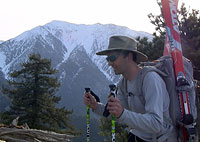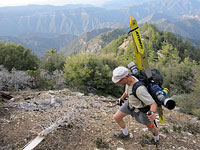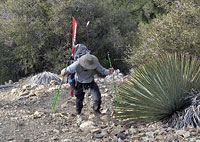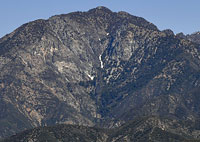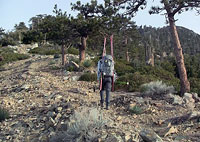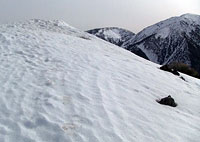 No matter what, we're going to be skiing this mountain today.
Though some question remains as to what exactly we'll actually be skiing.
On the subject of skiing, we've been staring up-close at Mount Baldy's gorgeous west face for two days now—an objective which itself begs to be skied.
Trivia buffs should note this is the same snowy peak and aspect visible in the background of the classic postcard photo of the skyscrapers of downtown L.A. in winter.
True to form Iron's final 2K is far from a jog in the park, but we slowly crunch the vertical up the long south ridge, passing pine trees now instead of just Manzanita.
Lou races ahead and is soon out of sight. Dave and I stay together, snapping photos and marveling at the giant Yucca plants that sprout regularly along our path.
Also notable is the tremendous exposure off the west side of the ridge.
Iron Mountain's entire south face, in fact, is split by a wild cliff-bound gully that strongly suggests our present route may well be the only non-technical way to ascend the summit from any direction.
We reach an open section of the ridge, and the angle moderates. A bona-fide trail appears, offering spectacular views both east and west.
The view I'm interested in, however, is dead ahead: Iron Mountain's summit.
And then I see it: snow.
From the bare rock and dirt of Iron's south face, snow suddenly begins to materialize everywhere, like a mirage in the desert.
I step onto snow and hear that wonderful crunch of ice crystals beneath my boots.
This is not just an isolated patch of snow—no. This glorious white mirage keeps expanding until the entire desert is gone. It's just a few feet higher to Iron Mountain's summit. And with each step, more snow comes into view, as well as the snow-capped faces of the highest peaks in the San Gabriels. I see Mount Baldy, Pine Mountain, Dawson Peak.
And of course I see Baden-Powell rising high above the San Gabriel River Valley, snowy and majestic, the place, three years ago, where this whole adventure was born. We've done it! After the longest, driest, most grueling approach any of us has ever attempted, Dave, Lou, and I have successfully carried skis atop Iron Mountain for very likely the first and very probably the last time in history.