Langley's Northeast Couloir — Page 2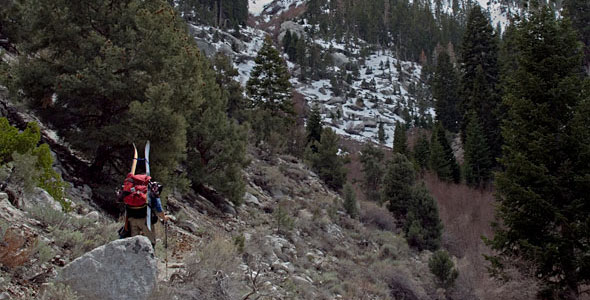 Tuttle Creek, Revisited
The weather coming up Highway 395 was discouraging. Storms brought record snow to the Sierra this year, but even late into April, the storms seemed unwilling to quit.
The forecast called for clearing skies, but I'd seen nothing but rain and thunderstorms since the Antelope Valley. Dave and I discussed the weather and our options. Since the Tuttle Creek drainage wouldn't expose us to much lightning hazard, we decided to hike up to our base camp and hope the weather cleared the following day, as forecast.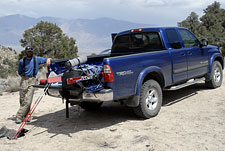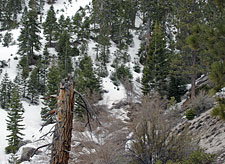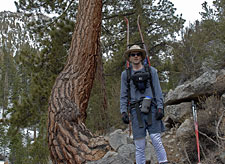 The sun did seem to be coming out when we reached the trailhead. Thanks to Dave's 4x4, we were able to drive up to a whopping 6900', which was better than I'd done in my Civic, at least.
That still meant over seven thousand vertical feet of climbing lay ahead.
I'd given up trying to pack everything into a midsize pack, so I was carrying my Gregory and a smaller Black Diamond pack for the summit attempt.
With skis, overnight gear, and heavy alpine boots, I was overloaded, to be sure—but after my winter camping experience in Tuttle Creek, I wasn't willing to be caught unprepared.
From the upper parking area, there is an established trail for a little less than a mile and a thousand vertical feet, to the first creek crossing.
The trail continues up the north fork of the drainage, to a stone religious shelter.
From this point onward, you are mostly on your own. Scattered use trails appear here and there, but often fade. We soon saw snow along the drainage's north aspect, but we were making good time up the opposite side despite the brush and gravel, so we kept the skis (and for Dave, splitboard) on our backs.
As we climbed higher, the sky became a sullen, sulky gray. Occasional raindrops fell, though not enough to cause concern. Hiking up rough, trailless terrain from low starting points is just a fact a life in the Southern Sierra. I found myself envying those skiers who enjoy drive-up access to the snowline—especially as the weight of my full pack began to work its dark magic on my body.
During such times it often seems to me to be a wonder that anyone chooses such an arduous sport and calls it fun: staggering about beneath a heavy load, taking step after step across steep, rocky gravel, occasionally getting swiped by thorny bushes and sharp branches.
Skiing must indeed be a compelling activity to persuade us to put up with such indignities. Luckily, we found a vestigial trail that began switch-backing up the north side of the creek. This made the going if not easy, at least bearable, and soon enough, we arrived at the first bench—and the snow.