Langley's Northeast Couloir — Page 3
Skinning Up
At the first bench (around 8800') the steep drainage opens up to a flat, snowy valley, where I'd camped earlier this year, in February. I was eager to get my skis and boots off my back, and I was also eager to see Dave's splitboard in action.
A Splitboard is a snowboard that can be separated into two halves, allowing a skis-style ascent. On the descent, the two halves are once again locked together, making for a normal Snowboard.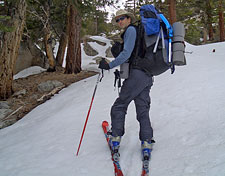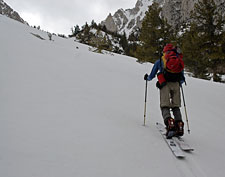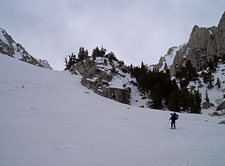 ...Sort of.
The Splitboard concept is innovative, but the technology hasn't quite caught up yet.
Splitboarders must put up with a variety of mechanical quirks, as well as considerable additional weight.
Still, the advantages of being able to ascend on skins appear to outweigh the liabilities.
On the relatively flat terrain at the base of the drainage, Dave had no trouble keeping up with me.
Of course, I was also carrying a virtual house on my back.
We kept climbing upward, making easy progress on Tuttle Creek's rolling terrain.
The snow was consolidated corn, more or less, with a layer of windblown powder on top.
It looked like it would make for perfect skiing, and I found myself imaging tomorrow's descent through this delightfully open section of the mountain.
As time passed, the sky began to darken, and the wind picked up. Clouds rushed about overhead. An uncooperative strap on my pack kept whipping about, catching me repeatedly in the back of the head. I did my best to ignore it.
If the weather looked the same tomorrow, I didn't see much hope in gaining the summit—unless we got a very early start. I kept trying to read the sky, wanting to know if tomorrow's forecast—clear and calm—would still somehow come to pass.
Dave and I reached the second bench, around 9500'. Now, we could start to see Mount Langley's northeast face looming on the horizon. This was as far as I had traveled in February. I was excited to pass this point and keep going, knowing we would soon be at the base of the couloir.