Langley's Northeast Couloir — Page 4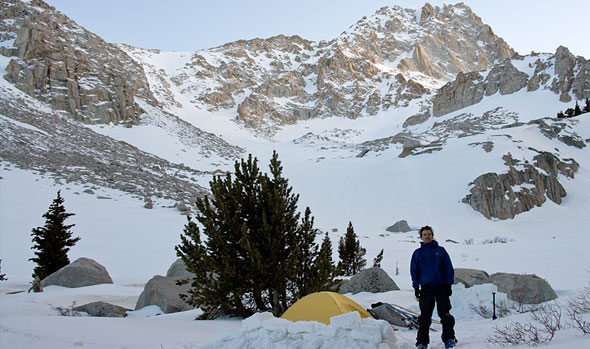 Base Camp
Miraculously, the weather suddenly seemed to be turning. The clouds which only minutes previously had been gathering now burned away. The sun appeared.
After cresting the second bench, the terrain again flattened, opening up into a large valley with the Corcoran Pinnacles to the right, and Langley's impressive north wall to the left. Dave and I stopped to take a moment to discuss our route.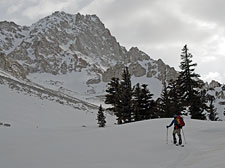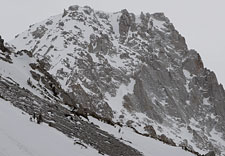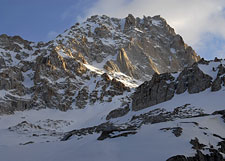 Dropping directly down the center of Langley's north face was a severe, discontinuous line that would require at least a few rappels.
Both Dave and I agreed this was well beyond the scope of our adventure.
The top of the northeast couloir was visible against Langley's broad left shoulder. I assumed this was the traditional route, which would continue around the mountain's southeast buttress, and then on to the summit.
Assuming there were no significant technical challenges hidden from sight below, the northeast couloir was clearly a viable (potentially even moderate) descent route.
I also pointed out another possibility: a steep, east-facing gully which began just left of a needle-like spire from the very top of Langley's summit plateau, descending perhaps 800 vertical feet or more before rejoining the main couloir.
The line was clearly continuous, but of unknown steepness. If I liked the look of it when we got up there, I intended to ski it.
The Northeast Couloir continued to slowly, teasingly reveal itself as we traveled farther up the drainage. Fierce winds raked across Langley's north face, sending plumes of snow streaking off to the east. This raised the unwanted specter of potential wind loading, and associated avalanche danger. That seemed like a remote possibility so late in the year, but then again, it had been a very unusual year.
The wind also continued its assault on us. I did not look forward to trying to set up my tent in the gale. At 10,400', we reached a flat area with a small scattering of trees that provided some shelter from the wind. It looked like a good place to camp. We were at the base of what might be called the northeast couloir's apron, though the size of it seemed to demand some new terminology.
Though the bulk of the northeast couloir was now hidden from view behind a towering buttress, numerous other skiable lines had appeared. At this elevation in the Tuttle Creek Drainage, nearly everything looked good. With Dave's help, I got my tent up, and built a short wall of snow blocks for a windbreak. The day was ebbing, and I was looking forward to eating dinner and getting into my sleeping bag for a well-deserved rest.
Having company for dinner was a fine change from my normal solo tours. Dave and I took turns melting snow to make water, talking eagerly about the big ascent to come. I was surprised to learn that Dave traveled without a sleeping bag: he was going to sleep in a bivy, with only his clothes to keep him warm. That sounded a bit radical by my standards, but after lugging so much weight up from the car, I was convinced he was on to something.
Somehow, I knew I needed to travel lighter. Soon enough, the day's last rays of sun set Langley's granite ablaze with light. After all the stormy weather, it was starting to look like tomorrow would be a perfect day for summiting.