Langley's Northeast Couloir — Page 5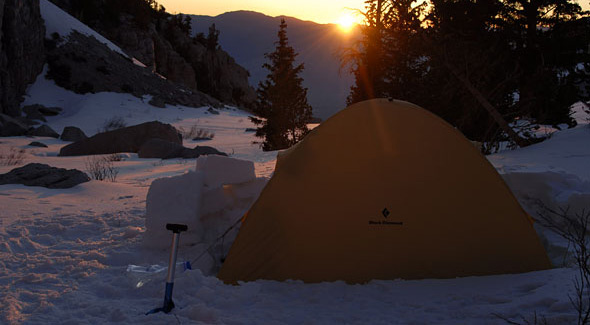 Dawn
Dawn. The sky had cleared overnight, and as the new day broke, the weather looked fabulous. To the east, over Lone Pine and the Owens Valley, I saw no hint of cloud.
There would be no thunderstorms today to prevent us from reaching the summit. This did, however, raise a new problem. Expecting cool, cloudy weather, Dave and I had planned to start hiking around 6 a.m. I estimated we would make the summit around 11.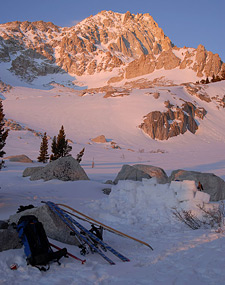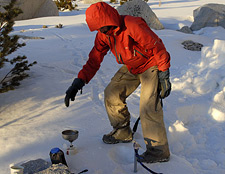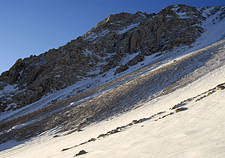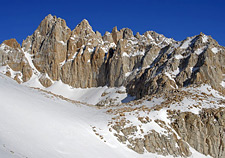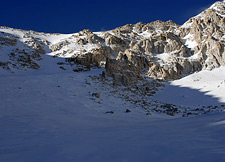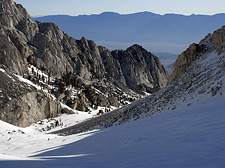 With clear, warm weather, however, the snow in the Southern Sierra can get awfully soft by then. The rising sun lit Mount Langley's north face.
While it was clear here at camp, I could see contrails of snow blowing off the crest near the summit.
The wind helped ease my concerns about softening snow. A good wind can prevent snow from melting, even when the air temperature is well above freezing.
Dave and I went through the usual morning rituals—melting snow and boiling water. On the menu today for me was Lipton Chicken Noodle Cup-a-Soup: a hearty 45 calories of salty water. I planned to get most of my fuel snacking on-route.
Dave, on the other hand, preferred a more substantial meal, and so ordered a hearty breakfast of macaroni and cheese.
A word about Dave: he is a friendly, earnest soul who seeks his solace in the mountains. While I'd spent the winter (mostly) at sea level, Dave has toured throughout the eastern Sierra, living from a base camp in Lone Pine.
Given the vast difference in our respective levels of acclimatization, I expected Dave would crush me like a bug on the ascent.
I expressed my concerns to Dave, and told him I was going to start climbing. I expected he'd catch me soon enough. For his part, Dave was happy to get a more relaxed start.
And so, at last, it was summit day, and the start of the climb.
On hard, windblown snow, I skinned up easily, feeling strong and well-rested, ready for whatever Mount Langley had to throw at us.
I don't think I can fully explain the joy of a moment like this. Years of planning and preparation have gone into its making, all in the hopes that the conditions, the weather, even myself will be just right.
Many times I have been disappointed in the past. Weather can turn, demanding a speedy retreat. The route may not come into shape at all for a season or more.
Gear can fail, or prove inadequate. And sometimes, it is the body—or more likely the mind—that simply isn't ready, and on such days it is at best small comfort to claim there's always next year.
Today does not appear to be such a day. I make slow but steady progress upwards. Dave is still fiddling around at camp.
I enjoy the silence and scenery, the patterns of light on rock and snow, the immense spectacle around me. White plumes of snow stream east from Langley's granite pinnacles, contrasting vibrant blue sky and steel-gray rock.
Now, at last, the scale of Langley's northeast face is beginning to reveal itself.
I climb higher, higher above camp, yet I'm still barely halfway up the massive apron of snow beneath the entrance to Langley's northeast couloir.
If I'm reading my topo map correctly, the entrance to the chute is around 12,000'.
That means I have to climb 1600 vertical feet just to get to the base of it. Looking back toward camp, I see Dave has at last begun climbing. He is visible as a tiny red dot roughly halfway between me and our camp, and his presence hammers home how big Langley's northeast couloir actually is. I find myself wishing we'd gotten an earlier start. It's too late to cry about that, but I do whoosh more air into my lungs and pick up the pace.
Since leaving camp, I've been doing my best to stay high on the sides of this giant apron, and thus avoid climbing straight up the middle of an avalanche path. There is, however, no way to sugar-coat the truth: I'm in the runout zone of several massive slide paths, each of which comes from a different aspect high above. I don't see how this area could be skied safely in mid-winter, except under the most unusual of circumstances.
Moving on, I am encouraged to see I'm getting closer to the massive, diagonal buttress that hides the northeast couloir's entrance. Soon, I'll be able to see up the belly of the chute, getting, for the first time, an up-close look at it. Behind me, surprisingly, Dave has dropped off a bit. I decide I'll climb up until I can see into the couloir, and wait for him there.