Langley's Northeast Couloir — Page 6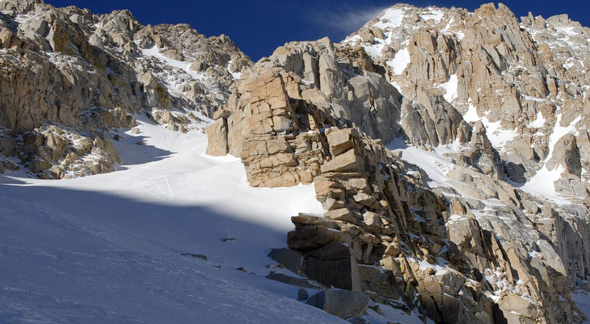 Climbing the Couloir
The granite buttresses on either side grow high above me as I near the couloir's entrance, and at last peek around the corner to see what lies within. The grand moment of revelation has arrived.
I'm almost giddy with excitement, overwhelmed by a sense of how lucky I am to be here. What a special privilege it is to climb and ski the Eastern Sierra. I skin a little way up the couloir before deciding it's time to switch to axe and crampons.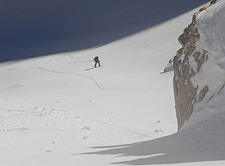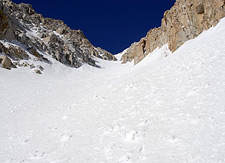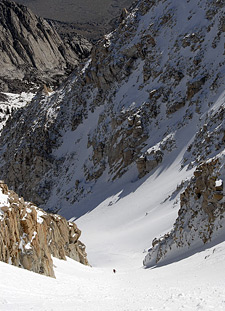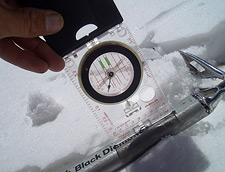 The air is calm within the couloir's deep granite walls, and the snow is softening.
The top of the couloir—and Mount Langley's summit—is about two thousand vertical feet above.
Here again, the scale plays tricks on the mind.
It's impossible to appreciate how big the chute is.
I take a few photos of Dave as he works his way toward the top of the couloir's apron.
Dave stops to take a few photos of me.
That taken care of, I pull out my snack bag and munch on sunflower seeds while Dave climbs up.
Our camp is an indistinct grouping of trees far below. I can't see my tent any more.
It is 8:10 a.m.
It has taken me one hour and forty minutes to climb from camp, at 10,400', to the base of the couloir.
When Dave arrives, he measures our present elevation at 12,100' via GPS.
I'm satisfied with the pace, but I know I'll get slower as the elevation increases.
Plus, the softening snow will likely slow us down further.
I'm ready to go, so I resume climbing.
Dave is still switching to crampons.
Snowboarders in general tend to have a troubled relationship with crampons.
The problem is the soft, rounded boot, which doesn't provide a good point of attachment.
You'd expect a good strap-on crampon to stay on just about anything, but even these tend to slide off the rounded nose of a soft snowboard boot.
While Dave is working to get his crampons on, I climb up the sunny west side of the couloir. The snow is more solid here, and provides a solid base to stand on. I make good progress upward, and soon enough, Dave is once again a tiny red dot below. Here in the lower couloir, the angle is a moderate 35-38 degrees, an easy climb.
The Tuttle Creek drainage is now far below. Beyond that lies the dusty brown earth of the Owens Valley. I pick out buttresses along the sides of the Northeast Couloir and use them as mental checkpoints to measure my progress. It's slow going. Langley's Northeast Couloir seems to stretch on forever. My feet begin to sink into the softening snow, which unhelpfully balls up beneath my crampons, forcing me to put an awkward little kick into each step.
For variety's sake, I occasionally bang my feet with my axe handle to clear the snow. Dave, meanwhile, vanishes behind one of the many rolls within the belly of the Couloir. He reappears from time to time, about 500' vertical below, before again vanishing. The climb goes on.