Langley's Northeast Couloir — Page 7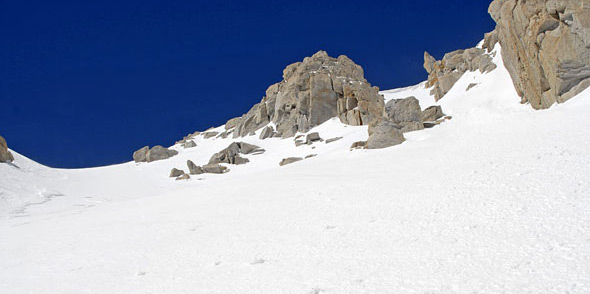 To The Summit
It is 10:34 a.m. I have gained a thousand vertical feet since switching to crampons, putting me around 13,000 feet in elevation. Just another thousand feet to go.
At last, I can see the top of the Northeast Couloir, as well as the top of the east-facing gully I want to ski. The east gully is easily identifiable, even now, thanks to its entrance cornice. Additionally, I identify that neighboring sharp needle of rock—a perfect landmark.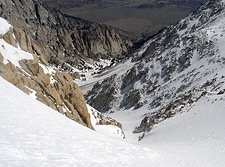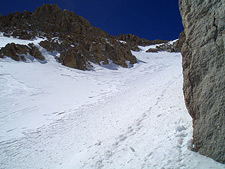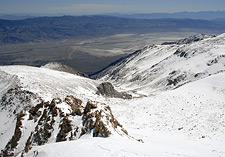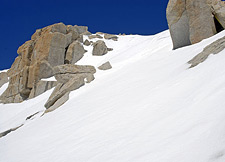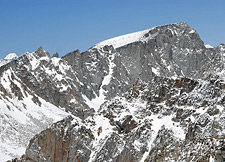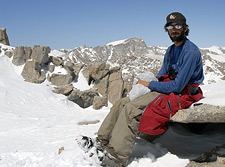 The gully is clearly much steeper than the 35-40° main couloir, but it looks like a go. Dave is once again visible as a red dot climbing up the midsection of the couloir.
As I near the top of the couloir, the wind returns, gusting to 40 or 50 miles per hour.
At this elevation, the snow looks less like spring corn and more like winter wind pack. Either way, it still sticks to my crampons.
This last thousand feet is going to be a killer.
I bang the snow from my boots with my axe and bend myself again to the task of climbing upward. In all my web surfing, I'd only once found any reports from Langley's Northeast Couloir: a trip report by Bill Henry.
In his report, Bill talked about the couloir seeming to go on forever.
In the end, his party stopped about halfway, turned back by fatigue and poor weather. Still, the report was useful. It showed me first of all that Langley's Northeast Couloir was skiable.
Just as important, it prepared me for the difficulty of the climb.
With a last few tired steps, I crest the top of Mount Langley's Northeast Couloir, feeling much elation as I stand atop the mountain's east ridge.
A marvelous panorama confronts me now: Owens Valley and Owens Lake, the Diaz Creek drainage, the mountains of Nevada (to the distant east) and Olancha Peak to the south.
I had stood atop this ridgeline the previous summer, and dreamt of returning in winter, with skis, to descend this inspiring terrain.
That dream was about to become reality. Ahead, I had only a short gain of perhaps three or four hundred vertical feet to reach Langley's 14,027' summit.
The altitude conspires to slow me down despite my enthusiasm. I work my way south and west, rounding the ridge to climb up Langley's southeast buttress.
The south-facing snow here might be near 14,000 feet, but the sun has cooked it into mush nonetheless. Oddly, the wind which moments before had been howling abruptly stops. That makes the snow all the softer as I push up the final pitch to the summit plateau.
What a moment, coming up those final thirty feet or so, and seeing the summit come into view! The horizon north of Mount Langley's summit is dominated by Mount Whitney, which looks every bit the state's highest peak from this perspective. I cross about a hundred yards of flat terrain to reach Langley's true summit. Here, I drop my pack and stretched my tired muscles. The climb is over. Dave is not far behind.
We shake hands, congratulating each other on a successful summit, a pair of grinning, sunburned, exhausted madmen. With the snow softening as we speak, I suggest it's time to ski, so we discuss our descent plans. I say I'm going to give the east needle variation a try. Dave decides he will ride the main couloir.
I have skied once before from this altitude, on Mount Shasta's Hotlum-Wintun Ridge, but I did not reached the summit that day because of weather. This will be my first true descent from the very top of a fourteener, my first true Sierra Descent.