Langley's Northeast Couloir — Page 8
Needle Variation
I had scouted Langley's northeast face in summer, when the sheer rock had seemed much too steep to hold snow, much less to ski. Now, I see a snowy elevator shaft of a line down into the belly of the main couloir.
Atop the summit, I snap into my skis and traverse Mount Langley's broad plateau until I reach the needle spire marking the entrance to the gully. Peering over the edge of the north face offers a vertigo-inspiring glimpse into the abyss.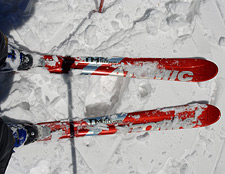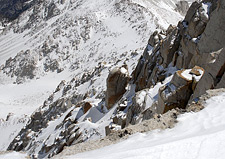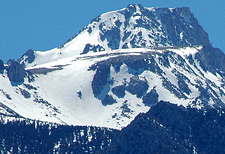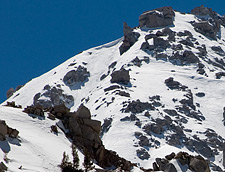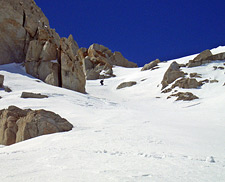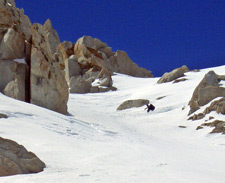 It's probably not much steeper than 45°, I tell myself. This is perhaps a clever ruse on my part to prevent the saner parts of my brain from shrieking in protest.
The snow looks variable: harder to the east edge, softer to the west. Hopefully there will be good conditions somewhere in the middle.
I don't believe in hesitating at the top of a steep chute. If you're going to ski it, ski it, so I traverse beneath the needle spire in one smooth motion and side-slip into the gully.
Steep&sup1.
I can't plant my uphill pole; the slope is too steep. I'm forced to fold my ski pole against the hill, so that my uphill hand skates against the snow.
The snow is crap: too hard here, too soft there, and sticky as if I've got Velcro on my skis. I sideslip down a bit, trying to get a feel for the snow, trying without success to get some sort of a predictable edge.
No.
Just that cursed stickiness. I'm going to have to break my skis loose on the unweight with each turn. Given the angle and exposure, that's going to mean a hell of a commitment.
There will be one mistake, or there will be none.
Below me is somewhere in the neighborhood of 500 vertical feet of super-steeps, which gets to the first choke point. After that, the gully angles east, out of sight. I feel like I'm perched on an airplane wing looking down at Tuttle Creek 4000 vertical feet below.
It's time to make that first turn. Now, it's a matter of trust: I must believe I can make this turn. No half-ass hesitation or leaning into the hill, no doubt, no compromise on legs that have climbed 7000 vertical feet in less than 24 hours.
And...
...There!
The first turn, clean and smooth, a perfect unweight, no foolish hop, I land it dead-center as if I've been doing such crazy things my whole life. And maybe I have.
Sideslip again, try to feel that bastard snow, slide, slide, TURN! Steep! Softer here, but still cranky. I piece together more turns, cut and wait for the sluff to fall, listen to the snow cascading down, down. Turn, reset, turn. I reach the choke. The angle is still balls-to-the-wall steep, but the exposure is not so unwieldy.
I've got another 400-500' to go before I rejoin the main couloir.
Now I see Dave at the junction below, setting up to take some photos with my Casio. No Kodak courage here, but I do feel comfortable linking my turns now, though I must still stop to cut sluffs. I knock a smallish wet slide loose. It slowly pushes down toward Dave. It'll miss him, I see, so I go back to work, finishing out the descent.
I bang off the last few turns and collapse, completely exhausted, alongside Dave.
"That'll get the heartbeat going," I say. Dave is not pleased about the sluff I just sent in his direction. We take a moment to discuss the proper avalanche etiquette given the situation. That settled, Dave wants to ski the full 3000' vertical beneath us in one giant push. I convince him to let me ski ahead to get some photos of him. Aside from wet slide concerns, all the day's technical difficulties are behind us. I'm relieved and exhilarated as I make my first turns in Langley's Northeast Couloir, proper.
¹ Update: How steep was the 'Needle Variation' of Langley's Northeast Couloir route? Subsequent comparisons with Bloody Couloir and North Peak's North Couloir have convinced me this remains perhaps the steepest sustained pitch I've skied—possibly approaching 55°