Langley's Northeast Couloir — Page 9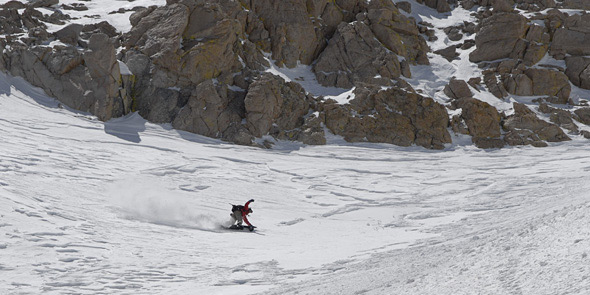 Skiing the Main Couloir
Skiing the main couloir made me feel a little like Jack in the Giant's house. At times, Langley's Northeast Couloir is as wide as a football field—truly immense.
For all the effort we had put into ascending it, we were now rewarded with a descent that seemed every bit as long as the climb up. We had nearly three thousand vertical feet to ski above camp, plus another two before we reached the snowline in Tuttle.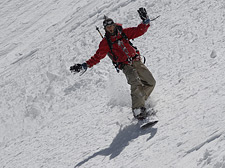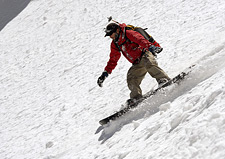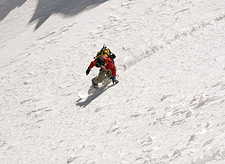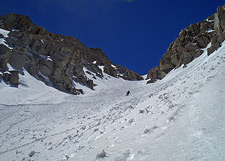 Faced with such an abundance of terrain, what can a man do...
But RIDE it?
Dave has a fluid, easy style inspired by his love of surfing.
It was fun watching him arc through the belly of Langley's massive northeast couloir, riding the soft corn as if it were the world's finest powder.
Normally descents like these are over all too soon.
But this time, Langley's massive couloir just kept on going.
Turn after turn we continued our descent.
We were a bit late on the gloppy snow, to be sure, which would have made better skiing earlier in the day, before the sun had worked it over.
I didn't mind.
The details of this extraordinary day's descent were only just starting to register in my mind.
My first ski descent from the top of a fourteener.
Langley's Northeast Couloir.
The East Gully.
I think the smile is still stuck on my face.
I put the camera away and skied down to Dave, who was kind enough to return the favor and take a few photos of me.
He's got a good eye, that Dave.
Next time I'll force him to bring his Nikon.
My used legs were protesting in the mushy snow, which grew softer as we descended. But oh, what a descent! What an epic, masterpiece of a line. This might be a good time to mention again that Langley's Northeast Couloir is huge. While I'm skiing it, I'll just call up a few stats with my Topo! software:
Vertical Gain (car to summit): 7000'
Vertical Gain (camp to summit): 3600'
Vertical Gain (camp to the top of the couloir): 3230'
1.7 miles (camp to summit)
Total Miles (round trip): 8.4
Piece of Cake!
After skiing another thousand feet or so, I stopped to look back at our tracks. Dave kept on going, carving his way out the mouth of the chute and onto the broad apron below, then down, down, another thousand vertical feet to camp, his whoops of joy and his tiny outline gradually fading in the distance.