Langley's Northeast Couloir
Skiing the Steeps on California's Southernmost Fourteener
MOUNT LANGLEY, CALIFORNIA — sunlike breaks through swirling clouds, revealing a giant, winding couloir that drop past spires and buttresses to the Tuttle Creek Drainage, 3500 vertical feet below.
I and my climbing partner Dave Silver stop to look up at that inspiring and intimidating line. Tomorrow, if all goes well, we will ascend that spectacular ribbon of snow, following it all the way to Langley's 14,027' apex. And then we will ski it.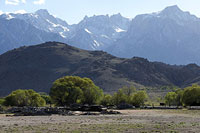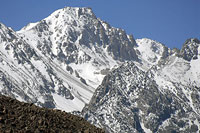 Like many people, I saw Mount Langley for the first time while visiting nearby Mount Whitney. After giving up following a particularly unsuccessful attempt to ski Whitney, I found myself with unexpected time to kill.
So I decided to scout the surrounding mountains for other descent possibilities—the most interesting of which quickly proved to be Mount Langley, just to the south.
As seen from Lone Pine, Mount Langley is a remote, aloof peak, usually just a hooded outline visible on the horizon through the haze of the Owens Valley.
Two features, however, make Langley of interest to the ski mountaineer. First is the broad high-altitude terrain along the peak's flanks, which hold gleaming snowfields well into summer. Both the Tuttle and Diaz Creek drainages offer excellent ski touring possibilities. Second is Langley's North Face, and the striking couloir that drops just east of the peak's 14,000' summit plateau.
The Couloir is massive in every respect, easily ranking among the Sierra's biggest skiable lines—from the summit of a fourteener, no less. Such tempting ingredients would seem to make Langley a perfect mountain for backcountry skiers. Of course, in the Eastern Sierra, nothing is ever as easy as it looks. Both Dave and I have tried previously to get up the rugged Tuttle Creek Drainage—Terrible Tuttle, we call it now.