Tuttle Creek Shakedown — Page 2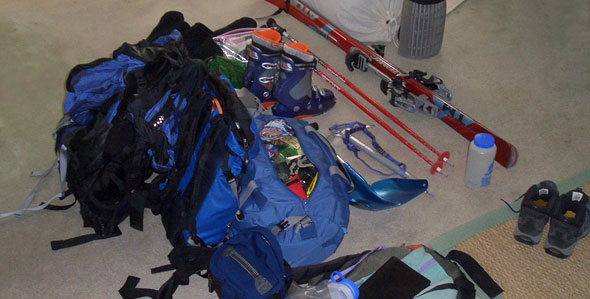 Weight Gain
Laid out on my apartment floor, my array of winter camping gear made it look like I was planning a small expedition, not a single overnight.
But I'd never camped on snow before, much less in deep winter, and I did not want to find myself under-equipped. Still, looking over that pile of gear, I was sobered by the thought that somehow, I'd have to find a way to carry all of it.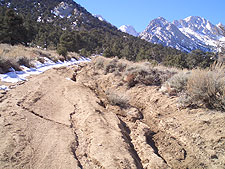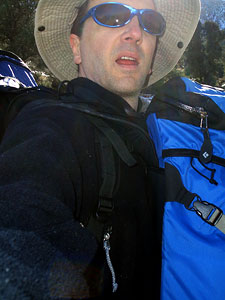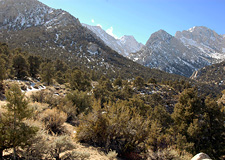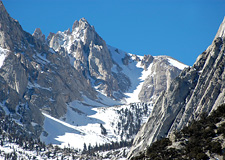 When I arrived in Lone Pine, it was a little strange to find the ranger station empty, closed for the winter—another sign I was entering new territory.
From Horseshoe Meadows Road, I took the well-named Granite View Drive, a dirt road that eventually branches off to the Tuttle Creek trailhead.
Mini-arroyos cut across the road as it wound upward, but my civic passed over them without incident.
Nonetheless, prudence compelled me to parked at the first turnaround, at approximately 6600', rather than venturing the extra 1/2 mile of 4WD travel to the true trailhead.
With few exceptions, low starts are the rule in the Eastern Sierra, and those extra thousands of vertical feet over dry ground are always punishing.
I killed the engine and stepped outside.
Despite being mid-day, the temperature was already alarmingly cold.
I packed everything as best I could, taking not one but two packs.
Phase I of the day's experiments began with me putting my smaller, Black Diamond pack on backwards, across my chest.
Theoretically, the front pack would counterbalance the heavier load of my Gregory Makalu. Theoretically.
I like my Gregory, even though I hardly ever use it.
It's a big pack, nearly 70 liters expanded, and at just under five pounds it's not exactly light.
But my Gregory will carry upward of sixty pounds without killing me, and sometimes in the backcountry that's as good as gold. Despite the heavy load I felt good, strong and able, as I marched up the sandy road into the Tuttle Creek wilderness. A half-mile or so up the drainage, the road ended at a small overlook.
From here, I had a good vantage from which to survey the two major forks of the Tuttle drainage. To the north was Mount LeConte, just shy of coveted fourteener status, with a fine-looking sweep of snow off its northeast shoulder. To the south was Mount Langley, my intended target, looking alarmingly distant, as if it had somehow moved back a few miles during the drive from Highway 395.
The terrain in either direction looked fierce: steep, brush-choked, bordering impassible without a trail. I was glad to see an established hiking trail leading up from the parking area. I'd never been here before, but given the quality of the trail, it seemed reasonable to assume I'd have easy hiking all the way to the snow.