Tuttle Creek Shakedown — Page 3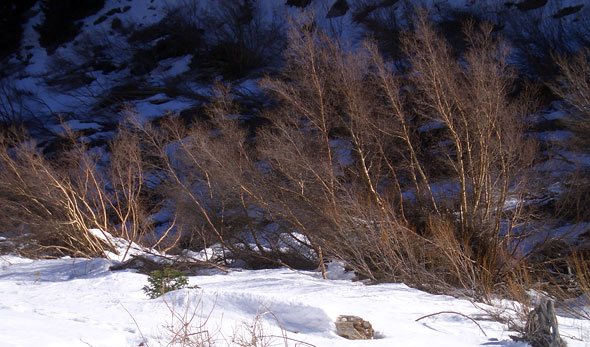 Into the Willows
I don't want to overstate the case, but having a good trail beneath your boots can make a huge difference. Unfortunately, less than a mile later, my excellent trail veers off uselessly to the north.
My intended route—toward Mount Langley—is blocked by a creek, a frozen waterfall system, and a maze of bare willows. Complicating matters is a patchy coverage of variable-crust snow, too inconsistent to switch to skis. Footsteps heading through the willows; that appears to be the only option.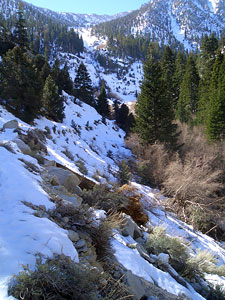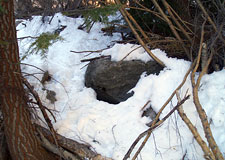 Into the willows I go, following the footsteps of my hopefully-not-misguided predecessors. The sun has now gone beyond the spine of the Sierra to my west, and the shadows are deep with cold.
I make my current elevation near 8000 feet, with an estimated two thousand feet to go to reach camp. As I battle the snagging willows and the shifting snow, my innovative experiment in backpack placement soon loses its novelty.
The pack against my chest has shifted its weight to my shoulders, and its straps keep sliding off. The front pack also seems to interfere with my Gregory's waistbelt, so that the main load on my hips shifts subtly to my shoulders as well.
Both packs and certainly the skis attached to them catch repeatedly in the willows as I push-press myself through, stepping into boot tracks through hard, crusted snow.
Higher and higher I go, eying the approaching sunset with growing concern.
How long to that first bench, I wonder? Less than an hour, surely, if I can just find a good route. This side of the valley is apparently fertile ground for some sort of low shrub with reddish bark and round green leaves (edit: Manzanita). The plant seems to undermine the snow wherever the two meet. With increasing regularity, I break through the crust, sinking down into shrubby snowy depths, from which I must struggle to pull my legs out.
My summit pack now swings freely around my neck, my lungs are heaving, and the sky is darkening. Across the creek, I see a rising trail cutting across the snow, either boot holes or skin track. That's where I want to be, but I've missed the crossing.
For now, I'm trapped on the north slope, with UP the only option. I try to maintain a delicate dance on the surface of the snow crust, walking on eggshells despite my heavy packs to keep from breaking through, finding protruding rocks to step on, always tacking back toward shrinking patches of dry ground, but this is a futile battle. The hell bushes, as I've named them, keep getting thicker, the snow weaker.
As the sky continues to darken, I break through the crust again, flounder again in waist-deep fluff, pull myself out again, exhausted. Fighting off a growing sense of desperation, I look above—high above, to where I hope to camp. At least another five hundred vertical feet.
Looking down, I am surprised to see red drops beading on my fingers. The rough edge of the crust has sawed my skin on that last fall. I take a step, licking fresh blood from my fingers, and plunge again through the crust, back down into the snow's hoary underbelly. Doubt rises as I look up. I'm still a long way from the bench. The sky continues to darken. The air is piercingly cold. At this rate, falling step after step into deep snow, I could be hours away.