Tuttle Creek Shakedown — Page 5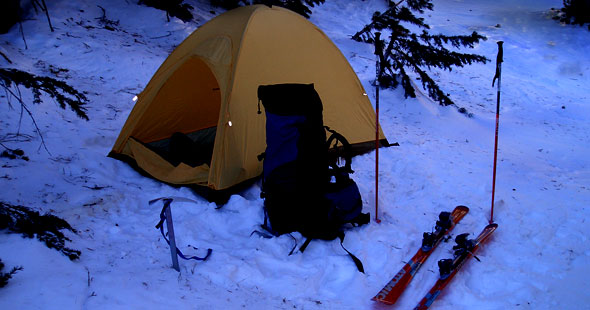 My Kingdom for a Cook Pot
Night has fallen. I stomp a pitiful tent platform and quickly set up my tent, not bothering to try to stake it down. My hands are freezing. My feet are wet.
I switch over to thick warm wool socks and crawl into my sleeping bag. This accomplished, I pull my candle lantern out of my pack, fish around for a lighter, and try to light it. For a scary minute it looks like the lighter won't go, but then a sickly flame appears.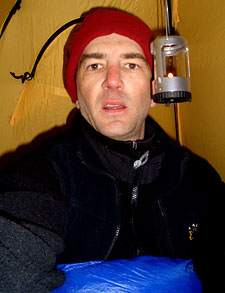 The lantern's glow is welcome but depressingly dim, enough to let me to see the formidable cloud coming from my mouth with every breath.
Dinner is overdue, as is a cup of hot tea, but I'm wary of trying to cook inside my tent, especially with the floor so uneven, and I'm unwilling to step outside into the biting cold.
The dilemma is nicely solved when I abruptly discover I've forgotten my cook pot.
I've forgotten my cook pot.
I repeat this several times in disbelief, each time hammering in a new realization. No cook pot=no hot drinks. No hot dinner. No dinner at all, actually. And—drum roll, please—no way to melt snow to make water. Luckily I've still got a little water in my Nalgene bottle—a liter and a half, maybe. But it's nearly frozen solid. No Cook pot! It's a huge mistake. A deal-breaker. Enough to get me kicked out of the local mountaineer's union.
I fight to twist off the frozen top on my water bottle, break through the scrum of ice, and take a drink of icy-cold water. That done, I put the frigid bottle into my sleeping bag, wincing as the cold presses into my hip. That'll make a lovely sleeping companion. As for my growing hunger, I gnaw some frozen walnuts and iced-over ham, the sum total of tomorrow's snack lunch. That's all there is. Really. And now, the long night begins.