Tuttle Creek Shakedown — Page 7
A Short Tour
I am relieved to see the sun approaching, but now I'll have to contend with those icy ski boots. My feet, despite two pairs of socks, are very cold.
Inside my tent, frost and ice are everywhere, along the entire length of my sleeping bag, coating the ceiling of my tent, running in lines along my jacket (yes, inside my sleeping bag) as well as my hat, and on both sides of my sleeping pad. On the bright side, wearing all my clothes to bed makes leaving the sleeping bag's warmth much easier. Breakfast, of course, will not be served.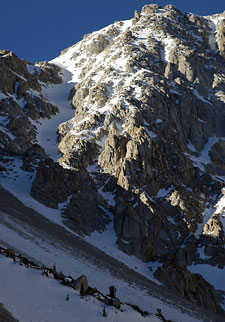 And pulling off my thick socks, standing in the tent's entrance, and trying to put on my ski boots becomes an unexpected ordeal.
The boots are so cold I can't put them on—the plastic is too stiff to allow my feet in.
I struggle and struggle to get the right boot on, at last succeeding, but already that foot feels dangerously cold. The left boot is even worse. My foot will not go in, no matter how hard I try.
Now I'm hoping around on one leg, one foot already nearing frost nip, the other on its way.
I feel panic rising, but then an idea strikes me: I pull out the boot's liner, put my foot in, then try to step into the boot. The liner makes it halfway and gets stuck. I fight the damn boot for another few minutes before discovering some interior flap (purpose unknown) has flopped the wrong way.
I re-flop the flap, push the liner in half-way, step in, and step down. My foot slips into the boot with ease. At last, I feel like I've done something right. But both feet are now stiff and painful with cold. I snap into my ski bindings, ready to start hiking, but suddenly stop. Wait. This is madness. My feet are too cold. If I don't do something right away, I'm risking frostbite.
The boots come off, and I get back into the tent, back into my sleeping bag. For a good half hour, I try to warm my frozen feet in my hands. Slowly, ever so slowly, my feet warm up.
I pull my liners out of both boots and put them on inside my sleeping bag. Another half hour or so, and my feet are relatively warm, as are the liners. That accomplished, I ski a short way up the drainage, perhaps a thousand feet vertical, to the next bench, where I get a closer look at Mount Langley's east couloir. Unfortunately I can't tell if the couloir is continuous or not, I'm not willing to climb any farther to find out.
Though I suspect the overall avalanche risk is low today, I don't care for the vibe of the snow. This area obviously gets scoured by wind. Scattered pebbles and granite flecks are strewn across the thin, wind-blasted snowpack, which consists mainly of hollow, icy crusts that crack and creak as I skin across them. I'm careful to stay away from angled, open areas, anything that looks like a slide path.
At long last, the sun arrives. Its warmth feels wonderful, though the air remains bitingly cold. I take a short break, chomp my remaining frozen walnuts, then make a quick, skittery-chattery ski descent back to camp.