Tuttle Creek Shakedown
A Winter Camping Adventure in the California Sierra
TUTTLE CREEK, CALIFORNIA — when it comes to traveling in the backcountry, winter changes everything. Inviting Alpine meadows become frozen arctic tundras.
Short days leave less time for travel; snowy drifts make travel slower, more difficult. The same gear that keeps you in the lap of luxury in summer can fail miserably in a blinding winter storm. Pinned down by a raging Sierra blizzard, escape itself may no longer be an option.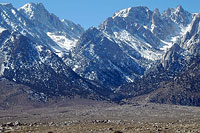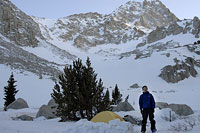 Making the transition from summer hiker to winter mountaineer is not a casual adjustment. It is an evolutionary leap, requiring new strategies, new techniques, new equipment—and greater risk.
I had camped several times at the snowline's edge in Spring, and I felt I was ready to take the next step: a mid-winter overnight. Camping on snow would be a necessity for realizing many—if not most—of the descents I was hoping to ski in the Sierra.
The question was, where should I go for my first attempt? I like to think of each tour as a training run, a way to test and refine my technique, always looking ahead toward the next, larger challenge.
The key to becoming a proficient mountaineer, I believe, is to find situations in which you can experiment and even fail without suffering catastrophic consequences. Such small failures, bruising as they may be to body and ego, can prove far more enlightening in the long run than small or even large successes. Thus I wanted to find a place where I'd face real challenges yet also be close to my car in case things got out of hand. It would also be nice to be near bona fide skiing opportunities.
The Tuttle Creek Drainage, in the Southern Sierra near Lone Pine, seemed an ideal choice. Camping in Tuttle would put me within striking distance of one of the Sierra's big descents: Mount Langley's Northeast Couloir. At the least, I'd be getting valuable beta for a future ski attempt—or perhaps I could even take a shot right away if conditions looked favorable.
With drive-up access and an established trail, Tuttle Creek also offered at least the possibility of easier passage through the low, brush-choked gullies guarding the Eastern Sierra's snowfields. So, the plan was in place: it was time for an early-season shakedown cruise to test new gear, spend a night camping on snow, and scout Langley's north face.