Mount LeConte's Northeast Cirque — Page 2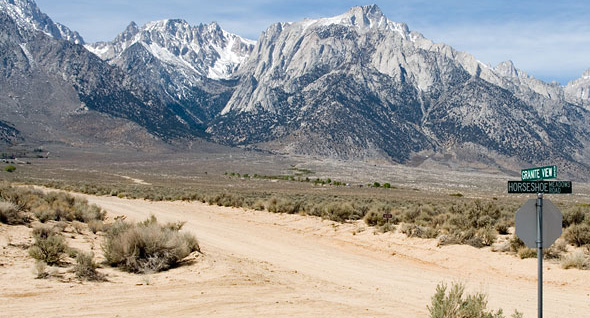 Tuttle Creek Access
From highway 395, the most direct way to access Mount LeConte is via the 'Terrible' Tuttle Creek Drainage—an ideal introduction to the rigors of the South Sierra.
Depending on the condition of the road, it's possible to drive as high as 7000 feet. At the end of the road, a short but obvious trail gets you to the enigmatic 'Stonehouse' shelter, elevation 7700'.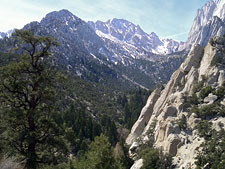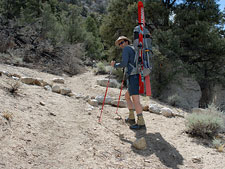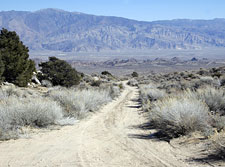 After that, you're on your own: expect massive vertical walls, impassible brush, and merciless talus wherever you go. I park the car around 6400' and pack up my gear.
The air is warm, in the 70's. At this elevation, I'm still in the Owens Valley high desert. Theoretically, it should be possible to ski from this elevation—snow does fall here in Winter.
Unfortunately, the heat of the Owens Valley makes quick work of the snow, even on north aspects.
Barring an ice age, you will almost certainly have to climb high to reach the snow in the Southern Sierra.
Thus, when I heft my pack, I'm carrying everything: boots, skis, water, overnight gear, the whole shebang.
The load feels crushingly heavy.
I fiddle with the straps as I trudge upward in the dust, trying to get the weight to sit properly on my hips.
As always, my first thought is that I'm carrying too much gear. Mentally, I review my inventory, trying to find ways to cut pounds.
There is no simple answer to this dilemma, however. I'll hike in my ski boots provided it's less than one mile or one thousand vertical feet to the snow. With a starting elevation of 6400', that is certainly not the case today, so my boots are in my pack. Also along for the ride are my ice axe and crampons. I'm always oh-so-tempted to leave these behind, but they've proven their worth on steep, frozen corn snow.
Shovel and Probe? Given the conditions, the answer is a controversial No, though I am wearing my beacon. Skis 'n Skins? Of course—that's why we're here. Not much can be done to lower this weight, but I do toy with the idea of giving Dynafit bindings a try next season. Clothing? I've got what I'm wearing and little else. My safety net is my sleeping bag. For the overnight, I'm carrying a Black Diamond Bivy Sack, a Marmot Helium Bag, and a Thermarest pad (my one luxury item).
Why, you may ask, can't we do this in one push—and drop the overnight gear?
First, remember, there is no trail. I'll be hiking up previously unseen terrain, scouting pitch by pitch, trying to avoid traps and dead ends, scrambling over talus and god knows what else. Even with the brightest headlamp, I can't imagine attempting this with a heavy pack and skis in the dark. The options, as I see them, are either grin and bear it, wait 'till next year and hope for more snow—or stay home.