Mount LeConte's Northeast Cirque — Page 3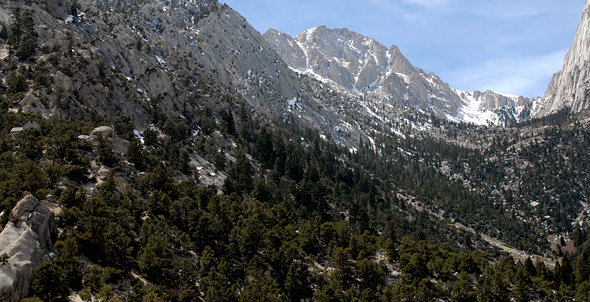 Stonehouse
Thanks to the excellent trail, I soon reach the Stonehouse shelter, which sits high upon the ridge separating the drainage's north and south forks.
Galen Rowell spent a winter here in the 1970's, climbing the impressive walls above the shelter. On the opposite side of the drainage, I am treated with a fine view of Lone Pine Peak's south face—one of the Sierra's biggest walls.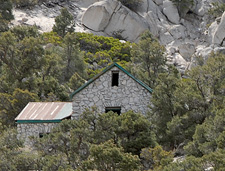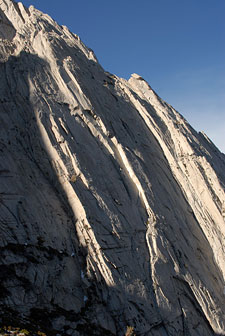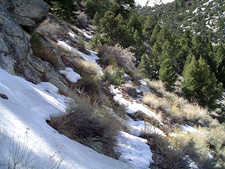 Though I do not consider myself a technical rock climber, I am nonetheless duly impressed with the many potential routes up smooth granite.
The 'Red Baron Tower', in particular, looks like a spectacular climb (see Climbing California's High Sierra by John Moynier).
From the Stonehouse, the trail essentially vanishes, and the route to Mount LeConte—a brutal traverse up the gorge's left slope—grows ever more difficult.
I have never been up this side of the drainage, but I'm hopeful conditions will resemble Tuttle Creek's south fork, which I've climbed en route to Mount Langley.
Following a faint use trail, I drop down around the Stonehouse and immediately begin losing altitude.
That makes me a bit nervous, but I stick with the trail, such as it is, and soon the faint path begins working upward and across the drainage.
Here on the drainage's northern aspect, I'm happy to see small patches of snow right away—a good sign, though the snow complicates foot travel.
Also complicating matters are the trees and brush.
The footsteps I'm following obviously do not belong to a skier, as the path repeatedly winds beneath overhanging branches which snag my ski tips and paint my arms with pine tar.
My pace drops as I contend with these obstacles, as well as the path's tendency to vanish, requiring route-finding skills to regain it. For a South Sierra mountaineer, this is 'the Usual Unpleasantness', as I've dubbed it. During such times, I find it's best to occupy myself with innocuous thoughts—anything to distract the mind from the tedium and burden of the work at hand.
Compared to the apparent distances seen from Lone Pine, the drainage seems to lengthen as I climb. This is a familiar and always-withering trick of perspective played by the giant vertical distances of the Eastern Sierra.
It reminds me of a horror-flick cinematographer's trick: the camera is dollied and zoomed at the same time, so that objects seem to race toward or away from the hero, who seems frozen in place. Not wanting my own efforts to seem futile, I try not to spend too much time looking ahead, focus instead on the loose ground at my feet, one step at a time.