Mount LeConte's Northeast Cirque — Page 5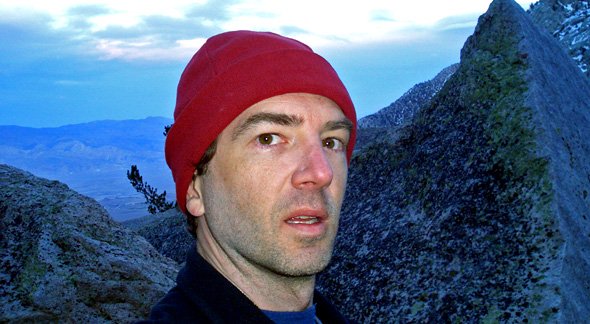 Stalemate
The sun has now passed behind the crest of the Sierra, throwing long shadows across Owens Valley and the Inyo Mountains beyond, but I at last have cause for optimism.
I am about to crest the last saddle before the snowline. I catch glimpses of snowy slopes ahead, perhaps a mere two hundred fifty vertical feet ahead. My triumph is short-lived. Hidden behind the saddle is a deep gully with no apparent way down.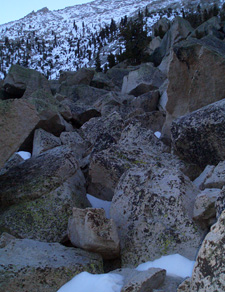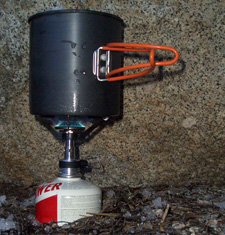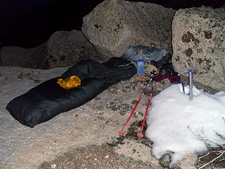 To my left, talus blocks rise like teeth, blocking passage. To the right, the talus plunges down into the drainage, impassible.
The cairn trail vanishes at this spot.
I've hit a dead-end.
After scouting the area with no success, I drop my pack and fire up the stove to cook dinner and consider my options.
Have I really lugged skis all this way only to be turned back inches before the snowline?
Welcome to the Southern Sierra.
I find a flattish spot beside the last cairn and sulk.
I'm angry enough to briefly contemplate packing up and heading right back down the mountain.
Prudence soon intervenes: there's no way I'm hiking down that minefield in the dark.
So, I've reached camp, apparently. I yank out the gear, roll out the sleeping bag.
And sulk.
As campsites go, my flattish spot on the rock leaves something to be desired. The rock angles toward a ledge that hangs over space.
Anything that rolls over that edge—myself included—isn't coming back. After dinner, I put a pot of snow on the stove to make water, then set about looking for a safer spot to spend the night. Off to the north, overlooking the steep gully, I find a better place to camp—and the next cairn.
The route ahead does drop into the gully, via a scramble and a log ladder that I wouldn't want to try with skis on my back. But...it might be possible to carry my skis down, in hand, and drop them as necessary to make the scramble. That's not all that's required, however. Looking ahead, the opposite side of the gully looks to be about three hundred vertical feet of unbroken Manzanita. Maybe I see a hint of a trail traversing beneath it, maybe I don't.
In any case, crossing this last section to get to the snow promises to be a real chore. I don't know what to do. If I do make a go of it, I'll have to wait for dawn, which will put me behind schedule to ski the upper, east-facing snowfields. On the other hand, the idea of quitting just doesn't sit well in the craw. I'll sleep on it and decide in the morning.