Mount LeConte's Northeast Cirque — Page 8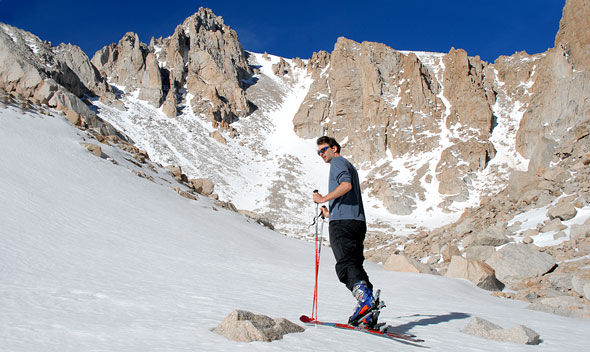 The Northeast Cirque
After climbing 5000 vertical feet, I crest the last rocky bench and enter Mount LeConte's Northeast Cirque, expecting to see continuous snow coverage.
Instead—what is there to say but...April Fools! The joke, clearly, is on me. From Lone Pine, I swore I saw enough snow to ski from Mount LeConte's northeast ridge—the Sierra's Crest—well past my present elevation.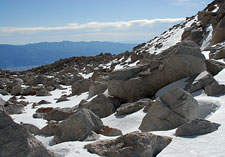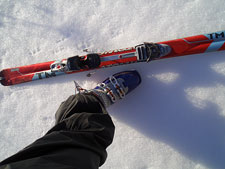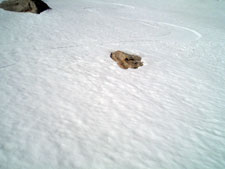 In reality, I've fallen prey to the Sierra's tricks of perspective.
Seen from Lone Pine, the foreshorted view made it appear as if the snow was connected.
Not only is the snow not connected—for the next mile or so, it doesn't even exist.
There is little point to climbing any higher. I've got a turnaround time to make, and much, much work to contend with below.
I can only stare at the Northeast Cirque in disbelief, trying to visualize what might have been.
I rip the skins off my skis, eat a little lunch, and prepare to ski the patchwork of snow back to camp.
When I turn to consider the descent below, the boulder-strewn view is not encouraging.
Briefly, I contemplate counting how many times I will have to take my skis off to cross rocky patches.
But no, I decide this would be too damaging to morale. So, skitter-scatter, off I go, 'skiing' between the rocks, trying to stay on snow.
It is fine to be here, high in the Sierra, skiing again—yes. But I am also feeling rather embarrassed at myself for concocting this snow-poor adventure.
As is the case with most Southern Sierra descents, when I reach the eastern rim of the cirque I am treated to a magnificent view—I can see all the way down to the road. Given the vertical mile of mostly-dry terrain beneath me, the sight has a certain bite to it. Once past the rocky spine of the third bench, I enjoy the only true skiing of the day, a thousand vertical feet or so of already-softening corn snow.
For these brief few turns, warm air sails through my hair, soft snow peels beneath my skis, and blue sky stretches endlessly above. Despite the absurd amount of work required to get here, I think to myself this is who I am. And this is what I do.