Mount LeConte's Northeast Cirque — Page 9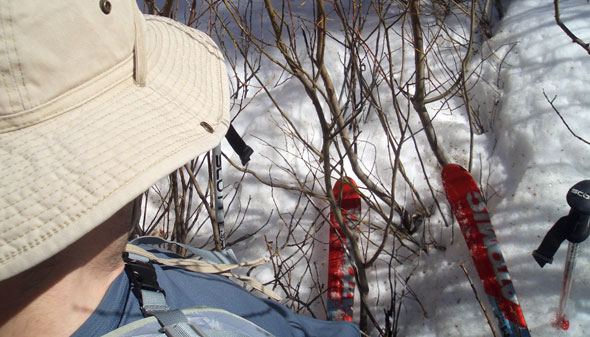 Once Again, in Reverse
Wanting to remain on skis as long as possible, I milk the snow for all it's worth, squeezing out every possible last bit of vertical to postpone the inevitable and awful hike down.
By following a ribbon of snow along the north edge of the ravine that blocked my passage the previous night, I am able to avoid much of the Manzanita. Of course, this means getting intimate with the willows instead.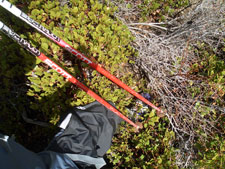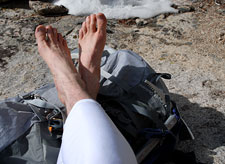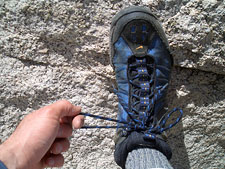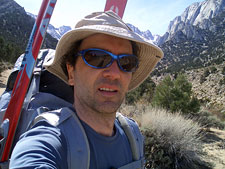 I discover you can actually ski straight though a willow thicket—to a point. Eventually, of course, this unconventional strategy becomes untenable.
I snap off my skis for the last time, throw them over my shoulder, and switch from willows to the Manzanita harsh embrace.
Of the two, I must say I much prefer the willows.
Traverse across the Manzanita, find the log ladder, scamper up, and I'm back atop the opposite side of the ravine, at camp.
Here, the boots come off to air out the feet. Sunning my self on a warm rock, I drink water and eat a sandwich.
All of yesterday's fun must now be repeated, in reverse.
I'm mostly concerned with that massive swath of talus. I wish I could just soar right over it—sail all the way down to the Stonehouse, if possible.
Well, let's not put it off any longer. Lace up those boots, tight as you can get 'em, heft that ugly pack, and off we go, back into that jumble of granite blocks, searching for the cairns.
I think I see one over there. Watch the pace now—keep things under control. We've got a long way to go to get home safely.
Down-climbing through broken talus is about as draining as it gets. Time passes slowly during these moments. But blink twice and see what happens. Was it really an entire year ago that I was skiing down nearby Mount Langley? Yes indeed, 2006 is gone, and now the winter of 2007 has passed as well (if it ever arrived in the first place).
Time passes faster than I can keep pace with. I try to tell myself there's always next time, always next year, but I know this isn't so. There are no such guarantees. How many times will I get to visit these mountains? The number is finite, I know. So each adventure is special, each visit precious, even those that don't go according to plan—especially those.