High & Dry
Searching for Snow in Mount LeConte's Northeast Cirque
MOUNT LECONTE, CALIFORNIA — Two years ago, in May, I drove north on Highway 395 from Lone Pine to Bishop, looking for interesting places to ski.
2005 was an El Nino winter, blanketing California's Sierra Nevada Mountains with enough snow to make just about every peak look skiable. Still, there were standouts—among them, Mount LeConte's Northeast Cirque.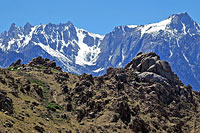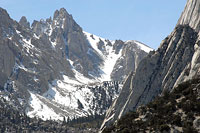 Since I was on my way to more popular destinations to the north, I resisted the temptation to change my plans that day—but I regretted it.
Covered with snow, Mount LeConte's steeps present a prominent target for ski mountaineering. The obvious ski descent is LeConte's broad northeast shoulder.
This sharply angled ramp gleams invitingly far above the town of Lone Pine, and easily ranks among the region's largest unbroken snowfields. But wait—get out your binoculars. With enough snow, the 13,960' pinnacle of Mount LeConte itself becomes skiable.
The contains a network of hidden couloirs and passages that twist between the spires and cliffs of the Corcoran Pinnacles. These are technical descents, to be sure, with all the inherent hazards. But even if prudence triumphs, and you decide not to attempt LeConte's ski extreme, you'll find a wonderful variety of terrain—skiable from the very crest of the Sierra.
Perhaps it was the memory of that winter that clouded my eyes as I gazed up at Mount LeConte's much less snowy slopes now, in 2007. Today, there is nothing to suggest Mount LeConte's east buttress is skiable—just bare, austere granite and vertical gullies. As for the Northeast shoulder, I do see what appears to be a few respectable snowfields, broken intermittently by lines of talus.
It is, to be honest, quite a bit more snow than I was expecting in this year of near-record drought. Once again, I'm headed north, off to ski other destinations. But this time, looking again at Mount LeConte's somewhat snowy spire, I can't resist trying to ski Mount LeConte. I stop at the Whitney Visitor's Center in Lone Pine and grab a permit.